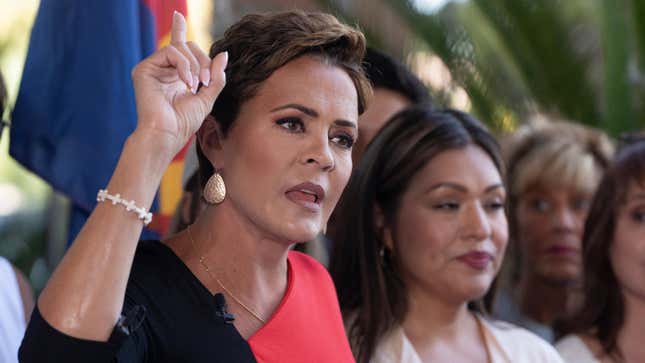 Kari Lake, the Republican candidate who lost the election for Arizona governor last year and then lost in all of her attempts to overturn it, heavily implied Friday night that she and all her fellow "card-carrying members of the NRA" are prepared to start shooting people to keep Donald Trump from going to prison over his comically overt mishandling/theft of classified documents.
Politician Cites the Constitution to Eviscerate Gun Supporters
"I have a message tonight for Merrick Garland, and Jack Smith, and Joe Biden. And the guys back there in the fake news media, you should listen up as well, this one's for you," she said at a speaking event in Georgia. "If you wanna get to President Trump, you're gonna have to go through me, and you're gonna have to go through 75 million Americans just like me. And most of us are card carrying members of the NRA. That's not a threat, that's a public service announcement."
Trump was indicted in Florida on Thursday and now faces 37 felony counts, including 31 under the Espionage Act. Photos from the indictment show stacks of boxes of classified documents sitting in the bathroom at Mar-a-Lago, including many in the shower.
Trump's own attorneys hilariously quit hours after the indictment was unsealed, and he then proceeded to incriminate himself all day on social media with post after post about the case—to the extent that even O.J. Simpson offered him the unsolicited legal advice to shut the fuck up.
But MAGA Republican politicians, for the most part, are standing behind their corrupt idiot overlord no matter what. After Lake threatened mass gun violence against the Department of Justice and entire news media, Sen. J.D. Vance (R-Ohio) posted a long, dramatic rant in defense of Trump on Twitter in which he declared that prosecuting a criminal ex-president means the "Republic is over."
It's become increasingly clear that when Trump said during his first campaign that he "could stand in the middle of Fifth Avenue and shoot somebody, and I wouldn't lose any voters," he may have been making one of the only correct and honest statements of his entire political career.