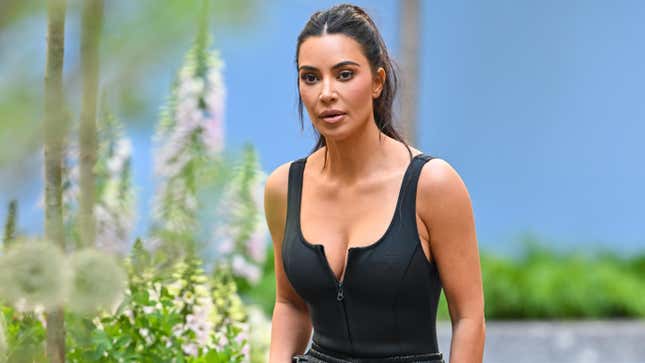 On Wednesday, Kim Kardashian kicked off her morning by posting a series of pictures of herself swathed in Gucci, accompanied by a vaguely inspiring caption: "Manifest your dreams and mind your business."
Is Emmy Rossum Old Enough To Play Tom Holland's Mom?
Meanwhile, in midtown Manhattan, hundreds of people in the Writer's Guild of America union who've attempted to do just that have been given no choice but to strike for higher wages, a stable pay structure, fairer deals, contracts, and regulations on A.I. interference outside studios and network offices in both New York and Los Angeles. Kardashian, however, didn't seem to be referring to them. How do I know? Because according to strike captain Warren Leight, she crossed the picket line later that morning outside AXA Equitable Tower, an office on 7th Avenue.
Kardashian—likely a SAG member—is set to star in the 12th season of American Horror Story, due out this summer. Last week, she was spotted filming on a Manhattan rooftop by Deuxmoi. Whether or not she's in town for production again is unknown, but conveniently, filming is currently taking place throughout the city. Per reports, some locations aren't far from where WGA members are protesting.
"Sad to report that Kim Kardashian crossed our midtown picket line today," the showrunner and playwright tweeted just a little over an hour after Kardashian's post. "Ushered past us into a freight elevator in her chauffeured Escalade. Writers aren't keeping up, but Kim Krossed Our Line." Kardashian's reps did not immediately respond to Jezebel's request for comment.
Now, no one would confuse Kim "Get your fucking ass up and work" Kardashian with Norma Rae. In fact, I can't think of a celebrity I'd be less surprised to see cross a picket line—save for Jeff Bezos, but come on. If you're that willfully grotesque despite having billions of dollars for a decent face transplant, are you even a celebrity or simply an elite who knows they don't have to care all that much?
Lest anyone forget, Kardashian is the kind of person who was once sued by her household staff for subjecting them to low wages and zero breaks despite arduous labor and, despite ample evidence of pollution and public shaming, exclusively travels on a $150 million dollar private jet that's been covered in cashmere.
Of course, with the exception of Leight's tweets and this story, there's been very little coverage of Kardashian's picket line krossing. Instead, it appears the internet would much prefer a discussion of who she might date next. Sigh.