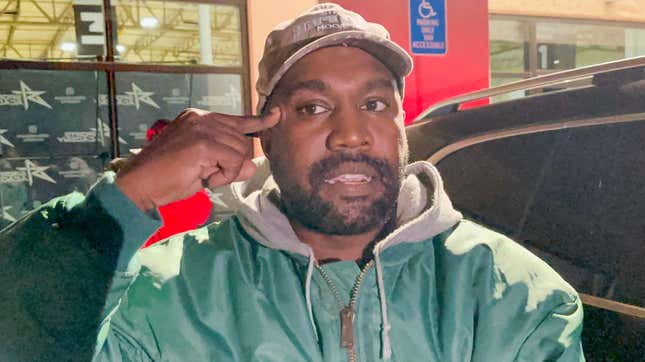 Just three months after two former teachers at Kanye West's Donda Academy filed a lawsuit claiming the rapper's private Christian K-12 school "violated education, health and safety codes, terminated educators based on race and retaliation, and failed to fully pay teachers," a second lawsuit has been brought against the school.
Watch Alex Jones Realize He's About to Get Busted For Perjury
On Thursday, a third former Donda Academy teacher, Isaiah Meadows, filed a suit in Los Angeles court, claiming he was unfairly terminated from his position after voicing concerns regarding serious health and safety issues as well as unreliable pay. Meadows' case is reminiscent of the other two former teachers, Cecilia Hailey and Chekarey Byers, who also claimed they were fired after they expressed a litany of worries—the lack of chairs and Black history books, for starters—about the state of West's school.
Donda Academy, Meadows alleges, was built without glass in the building's window frames, as West "did not like glass." As a result, students and faculty were allegedly "exposed to the elements."
"In the middle of the main classroom, a skylight was left without glass inevitably allowing rain to fall directly inside, where water would soak into the floor, which would lead to a moldy smell for the next few days," Meadows' lawyers alleged in the suit. "The skylight was intentionally without glass because WEST expressed that he did not like glass."
Additionally, Meadows claimed West's school had "serious wiring issues," so much so that an electrical fire occurred "near the student eating area where wire was laid atop the ground, exposed." Another concern detailed in the suit was a septic tank that would "overflow every other day, causing a terrible smell." A rep for West couldn't be located, and Donda Academy didn't return Jezebel's request for comment.
"The unlawful and retaliatory behavior by Mr. West and the school directors have now been documented multiple times by other former employees who never even worked together but all experienced the same horrendous treatment and witnessed the same serious health, safety and education code violations, while all were subjected to the same fate," Meadows' attorney, Ron Zambrano, wrote in a statement that accompanied the suit.
In June, another former teacher, Timanii Meeks, was named as a third plaintiff in Hailey and Byers' suit. In a 26-page document, Meeks detailed the "numerous complaints" they claimed to have reported to the principal and vice principal of Donda Academy. The school, they were told, was a "work in progress," and Meeks was then allegedly "reprimanded" and terminated without notice. Their case remains pending.
Currently, West also faces a number of other lawsuits, including one for using a photograph without permission to bully a Vogue editor on Instagram.