We all know from our trusty friends at every gossip magazine or site that Kanye West is a terrible boyfriend to Kim, and that he is a distant observer obsessed with his artistic pursuit. Well, in the ultimate surprise move, Kanye West demonstrates he knows what is up with the Kardashian clan: he filmed an 'American Psycho'-inspired music video with Jonathan Cheban and wait for it...Scott Disick.
To up hype for his new album titled Yeezus, Kanye filmed an 'American Psycho'-esque music video (actual song for video is unknown) in Brooklyn last weekend with Disick and Cheban, according to In Touch. Apparently, Cheban gets killed in the end.
Now let's unwrap the theories of what this video shall mean:
1. Kanye wanted to show the world that he is really 'in' with the Kardashian clan because he is probably making Disick's dream come true.
Disick is obsessed with 'American Psycho.' It is his favorite movie. He frequently draw parallels to him and the movie/book's main protagonist, Patrick Bateman, who is played by a very convincing Christian Bale. They dress alike, they're both selfish, narcissistic, mean, and incredibly oblivious to their self-serving actions. While Disick dresses every day like Bateman, he really took it there by dressing as Bateman with axe in tow at his 'American Psycho'-themed Halloween party in Las Vegas a year ago. So, with this video, Kanye shows that he really knows Disick and the Kardashian family. Not only that, he demonstrates that he is committed to the Kardashian family by directly involving two important Kardashian members into his very fragile, sensitive and important art.
2. This is how Kanye's pens commentary on the empty, unfulfilling and obscene life of the wealthy reality TV stars. Are the Kardashians Patrick Bateman? They do indulge in their insatiable desire to be constantly on TV, yet they never really seem to get where they want to be: as in, there is no catharsis in their action, no matter how dramatic or sensationalized they are.
G/O Media may get a commission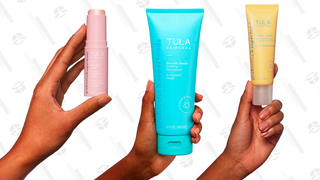 3. Kanye sees the tabloids as Patrick Bateman. Unlike theory number 2, where the Kardashians are Patrick Batemans, the tabloids are the ones who tear down their their subjects - celebrities - and the truth incessantly to the indifference yet amusement of the masses. And they get away with it, with no accountability to the truth or some journalistic standard. Like Bateman, tabloids create these sensational stories that in the end, are not exactly true or real.
4. Kanye just really, really likes 'American Psycho' and Big Sean and Pusha T were too busy to shoot a video.
During Kanye West's unspeakable autotune stage in his career, he was inspired by Christian Bale's Patrick Bateman for his music video, "Love Lockdown." In an interview with Ellen Degeneres, he talks about how his clothes and apartment decor were inspired by the movie. So, this will not be first time 'American Psycho' makes an appearance in his art.
5. "This confession meant nothing."
---
I just became cross-eyed from the mind-blowing possibility of a gadzillion conspiracies. With this Kanye move, the man himself has revealed that he is a few steps ahead of us and the tabloids.
Share your conspiracy in the comments section, maybe you can un-cross-eye my eyes with more reason/insanity.
Image via Dimitrios Kambouris/Getty