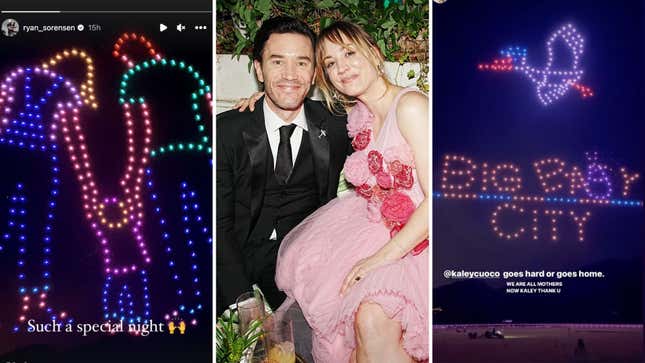 If you looked up into the night sky in Los Angeles over the weekend and saw 400 drones circling around the sky, no, you weren't in danger of enemy fire. You were merely in close proximity to Kaley Cuoco and Tom Pelphrey's lavishly batshit baby shower! Congrats, mama! A deluge of photos from the front line soldiers (that is, shower attendees) gave us a peek into the most elaborate baby shower I've ever witnessed.
Kaley Cuoco's pregnancy announcement this past October passed through my porous brain like chemically dyed pink water flowing through a waterfall into the water table. But the more details I read about this baby shower—400 drones; Brad Pitt's attendance; a cake that inexplicably read "Big Baby City" (as well as a drone display with the same phrase); a tower of stuffed farmed animals—the more intrigued I became. That dyed pink water was gurgling back up to the surface. Yum.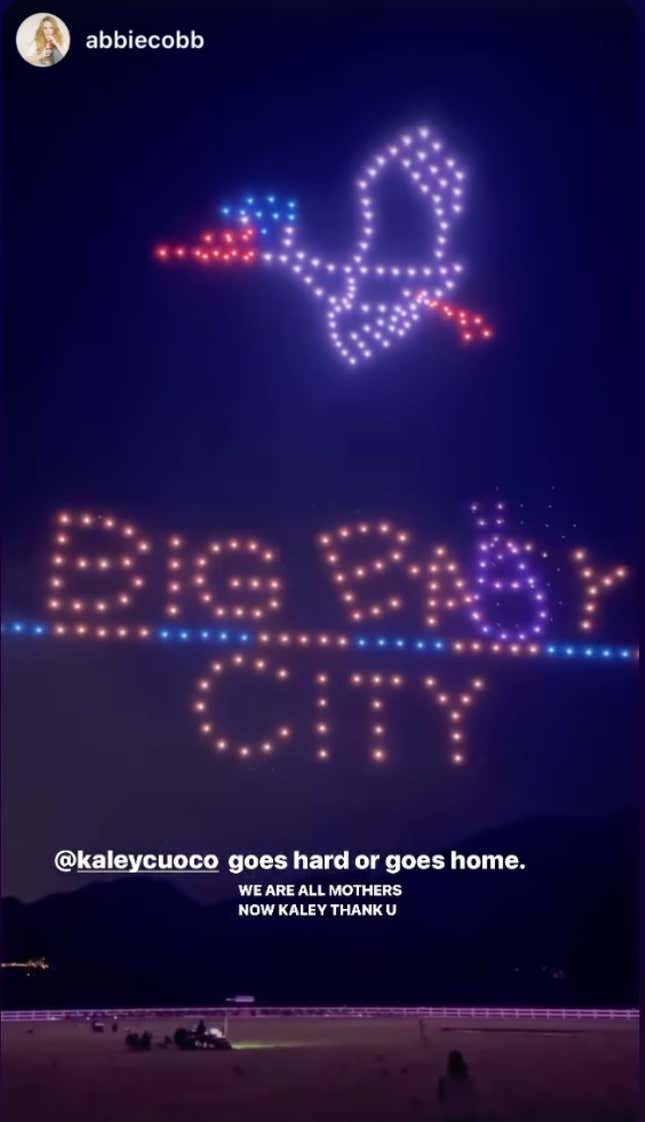 Hands down the most extravagant aspect of the bash, which took place on a horse farm, was the 400-unit drone show. One display read "BIG BAY CITY," only for a digital stork to fly in and drop a bundled baby that formed the second "B" in "baby." Art. (No, this phrase means nothing to me, but my very generous theory is that "big baby city" sort of rhymes with Big Bang Theory?)
Another display depicted two giant adults holding the hands of a toddler in between them. "We watched the coolest drone show…." Halloweentown star Kimberly J. Brown captioned the image.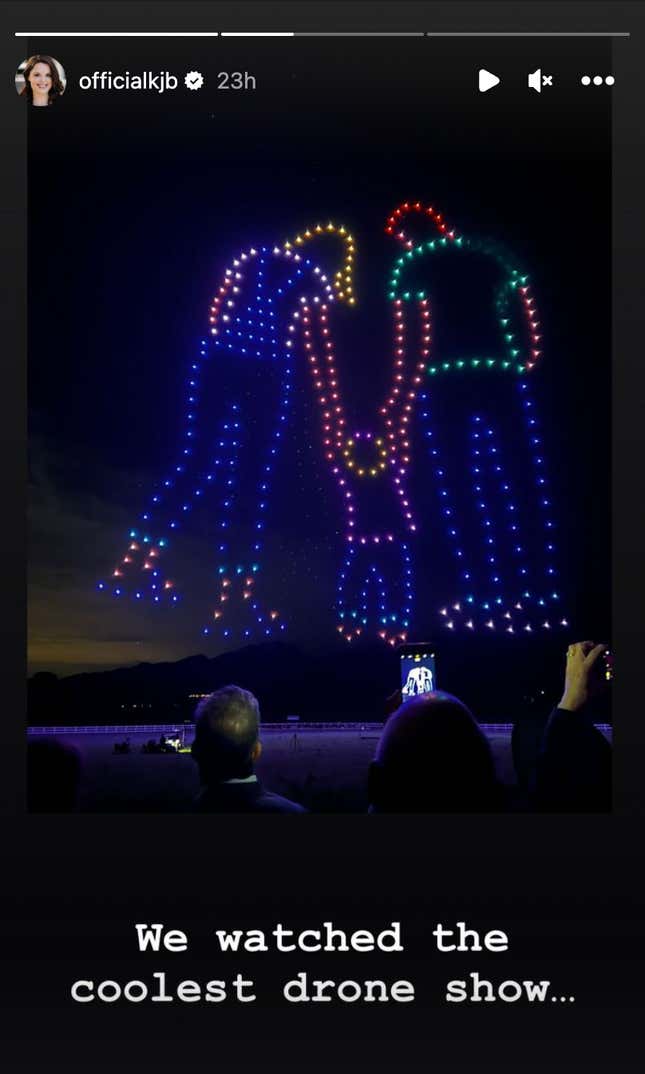 In context, yes, sure, very cool, very sweet. But if I was driving down the Ventura Freeway and saw this looming in the night sky, I'd convince myself that the aliens' arrival was imminent. That or some weird anti-abortion campaign got a tech whiz to plaster the sky in ominous pro-fertility propaganda.
Will drones replace traditional gender reveal spectacles like lighting a National Park on fire? Probably not. Drone shows are prohibitively expensive. It seems like the average cost per drone for these displays is between $350 to $700, meaning, on the low end, Cuoco's show totaled $140,000. But let's be real, this woman has CBS syndication money, so we're probably talking nearly $300,000 just for the drones.

While Cuoco, Pelphrey, and approximately 200 of their nearest and dearest might get to experience the thrill of a military-equipment-turned-hobbyist-gadget light show, the rest of us will have to settle for accidentally lighting 80 pounds of explosives to announce that the kid we're expecting has a penis.