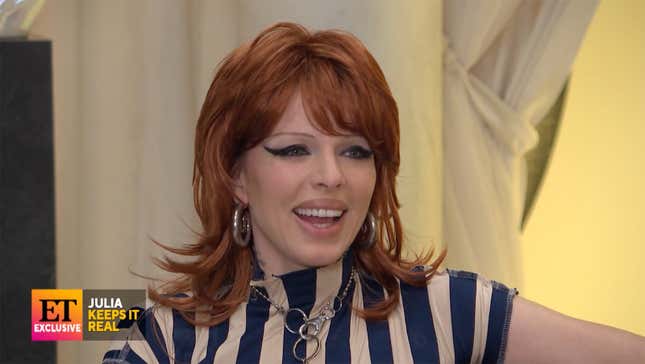 Have you heard that Julia Fox, actor, model, and wealth-despising, always-talking ex of Ye, is taking the controversial weight-loss drug Ozempic? I hadn't either, but apparently she has and she wants to set the record straight on her alleged slim-juicing.
Taylor Lautner Doesn't Even Remember Saying 'Bella! Where the Hell Have You Been Loca?'
"All these people are coming for me saying that I take the weight loss things... people are saying that I'm taking Ozempic or whatever it's called," Fox told ET in a recent interview to promote the second season of her podcast, Forbidden Fruits. "I'm not and I've never have...I would never do that. There are diabetics that need it."
Fox's Fruits co-host Niki Takesh, who was interviewed alongside Fox, then chimed in: "It's a diabetes medication and there's people that actually need it." Yes. This is exactly what a co-host does: restates with authority. Someone completely understands the assignment.
Fox, who rocked a uh, striking red wig during the chat, also said that she will not be discussing her date with Drake on the pod, and that Madonna is her "dream guest." Also, sometimes she forgets that she's famous, which must be nice. Regarding the viral video of her New York apartment that revealed, among things, a mice infestation, Fox told ET: "I feel like a lot of people outed themselves for never having been to New York when the outrage about the mouse happened, because it's like, um uh, everybody has mice here! It's when you have rats that you need to regulate. Very important distinction."
"Every building in New York has mice," Takesh added. Ugh, how is she so good at this?!
"Like when I was little, I used to have so much fun catching them and releasing them, but now, it's like I'm tired. Do I want to go catch a mouse after a 16-hour day? No, I'm just gonna convince myself that the mouse is a pet," Fox said. If I were her co-host, I would chime in: "Mice make great pets!" But I'm not, so I can't, and I won't.
---
Pete Davidson, who has laid low since crashing his car into a house earlier this month, apparently performed at Joe Rogan's recently opened Comedy Mothership club in Austin, Texas, this weekend. (Note that the South by Southwest festival also took place in Austin this weekend.) The venue, which has been referred to as an "anti-cancel culture club" by the Hollywood Reporter (and as "cancel-proof" by Fox News) has already hosted the likes of the trans-obsessed Dave Chappelle and Roseanne Barr, whose recent Fox Nation special conflated spewing right-wing talking points with telling jokes.
Rogan has, in his regular complaints about wokeness, said things like, "Wokeness killed the comedy movie in a lot of ways," and, "You can never be woke enough—that's the problem...It'll eventually get to 'straight white men are not allowed to talk.'"
Davidson previously mocked Rogan on a November 2021 episode of SNL ("I'm a human and I took horse medicine!") and delivered a humorous defense of trans rights in 2015 in the wake of the controversy over North Carolina's much-contested bathroom bill. How he squares all that with his Comedy Mothership appearance, details of which are scant given the club's strict policy against cameras, may all be revealed soon—redditors have posited that this could signal an upcoming guest spot for Davidson on The Joe Rogan Experience podcast. Oh the places we will go! Oh the content we will have to debate!
---
Rosalind Wiseman, who wrote the (nonfiction) book that Mean Girls was (loosely) based on, was paid $400,000 for the rights to her book in 2002, and now she wants more. [Page Six]
Your dreams are coming true: Good Burger 2 is happening. [Hollywood Reporter]
Bruce Willis turned 68 on Sunday, and his wife Emma Heming Willis and ex Demi Moore have posted videos of the festivities, which are poignant to the point of being hard to watch after news of Willis' frontotemporal dementia diagnosis. [Today]
Shazam 2 bombed at the weekend box office. [Deadline]
This is a great headline: "Oprah Winfrey visits site of Jesus' baptism in Jordan with showbiz pal Gayle King." [Mirror]
Freddie Prinze Jr. is back on his bullshit: complaining about his experiences making the Scooby-Doo movies. [E! News]