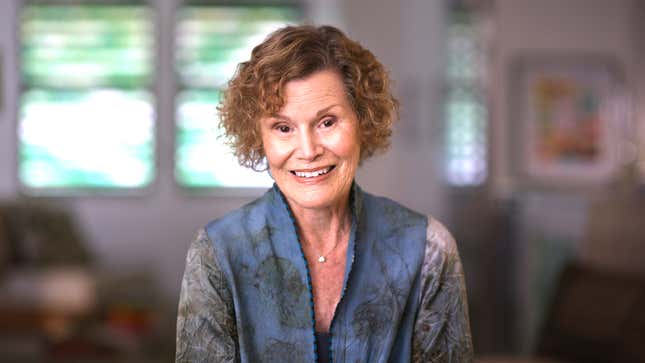 Judy Blume revolutionized young-adult fiction with her devotion to telling it like it is. As a kid, to read her novels—like 1973's Deenie, 1974's Blubber, 1975's Forever..., and especially the crowning jewel of her bibliography, 1970's Are You There God? It's Me, Margaret—was to feel like, "Yes, finally an adult who gets it and isn't afraid if I do as well." And yet, when co-director Davina Pardo approached Blume to collaborate on a documentary about her life and work, the iconic author was initially hesitant, Pardo recalled in a Zoom interview with Jezebel this week.
"She runs a bookstore in Key West, which she loves," the director explained. "She has a really full life and she just wasn't sure she wanted to open herself up in a documentary and commit herself to this kind of a project."
Why would Blume, whose novels took on taboos (at least in young-adult literature at the time of their release) like sex, masturbation, menstruation, antisemitism, and racism, not want to commit? After all, she has been known to be as much of an open book as her work.
"That's probably the reason that she was so hesitant—because she is an open book, she knew that if she's going to participate in a documentary, she was going to do it 100 percent. There was no way that Judy Blume was going to sit down for an interview and not share everything. And that takes a lot of energy and a lot of time," explained co-director Leah Wolchok in the same Zoom.
Spoiler alert: Pardo eventually convinced Blume (persistence and in-person conversations helped) and collaborated with Wolchok on Judy Blume Forever, a feature-length doc hitting Amazon Prime on Friday (it premiered at this year's Sundance Film Festival). Pardo said they filmed with Blume on three separate occasions, for days at a time, and the doc features a mix of direct-to-camera interviews with Blume and some candid footage of her riding her bike around and running her bookstore in Key West. Talking heads like PEN15's Anna Konkle, Molly Ringwald, and contemporary YA author Alex Gino help put Blume's work into cultural perspective. Wolchok said that when it came to Blume's interviews, nothing was off limits.
"She was so open. She encouraged everyone on the crew to be so open," the director said.
Judy Blume Forever pays particular attention to Blume's direct relationship with her fans—two in particular, Karen Chilstrom and Lorrie Kim, appear. They wrote to Blume in their youth and have maintained communication into adulthood; it was Blume who put the directors in contact with her decades-long pen pals. (Yale's Beinecke Rare Book and Manuscript Library is home to Blume's many fan correspondences through the years.)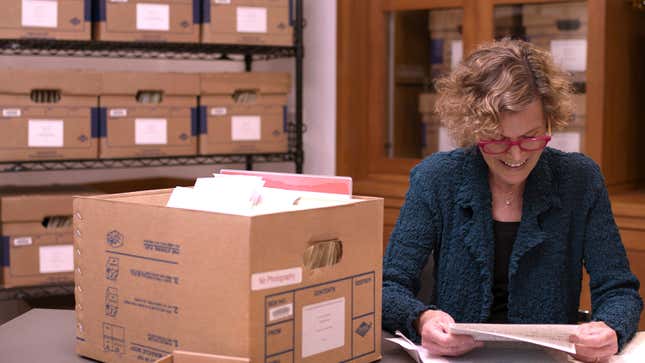 Additionally, the film features Blume reading passages from her own work (surreal animated sequences accompany her words). Along with sharing the flavor of her creative genius, these sequences illustrate how autobiographical Blume's work really was. Through her fiction intended for minors, Blume expressed a lot of what was going on in her life—her 1972 book about divorce, It's Not the End of the World, for example, forecast her eventual divorce from her first husband in 1975. In Tiger Eyes, from 1981, a young protagonist reels from the death of her father. Writing it was a way for Blume to explore her feelings about her own father's untimely death years before. In Judy Blume Forever, she cries as she reads a passage in which her protagonist details her father's funeral.
"Judy got emotional many, many, many times over the course of making the film," Wolchok recalled. "I mean, I think she gets emotional many, many times over the course of a day. She's so emotionally accessible. Tears come easily."
She added: "We asked her to read all these excerpts from her books, and I think she had been asked to read all those excerpts many times. But Tiger Eyes I think she said she had never really read out loud. And so she was, I think, accessing that young woman she was when she lost her father... She really just was taken right back there."

Given Blume's frank subject matter, it's no surprise that her books have been banned over the years and attacked by right-wing blowhards. A particularly rousing bit of archival footage in the form of a discursive showdown between Blume and Pat Buchanan on Crossfire is featured in Judy Blume Forever. Book bans have been on the rise, and Blume is once again in the crosshairs—Wolchok pointed out that Forever... was recently banned in Florida's St. Johns County School District, just one county over from where the director grew up.
"But really, by and large, the books that are being challenged now are books about Black or brown characters, books about queer or trans characters," Wolchok pointed out. "Those are the ones that parents seem to be so afraid that their children are going to read. And those are the books that most need to be out there."
That Blume remains a lightning rod is evidence of her words' power—the right wouldn't be so concerned with banning books about the truth if the truth weren't a threat. In fact, a recent article in the Sunday Times attempted to paint her as sympathetic to J.K. Rowling's anti-trans stance, a characterization she roundly denied. Blume's relevance is further underscored by the imminent release of the film adaptation of Are You There God? It's Me Margaret, out next week. Together with Judy Blume Forever, the projects mark a kind of Blumaissance underway in pop culture.
"We feel really grateful that the documentary and the adaptation are coming out around the same time," said Wolchok. "They complement each other in a way, because our film really dives into her life and her legacy and the impact she had on generations of readers. And then Are You There, God? It's Me, Margaret is this beautiful, really loyal adaptation of her most seminal work."