What's Judith Light's secret to making her marriage last? Putting an entire country between them for months at a time, thats what.

Light is in a long-distance marriage with her husband, Robert Desiderio, and has been for 32 years; I am now convinced that she is the smartest woman in Hollywood. In an interview with People, Light explains just how it is that she found herself in the most commonsense marriage arrangement I've ever heard.

"I met [Robert] on One Life to Live — he was the one who said, 'You have to leave the soap, you have to go,' " Light, 68, said of the early stages of her relationship with 66-year-old Desiderio, a former television actor. "I said, 'Go? Where am I going? I'm living in the city of my dreams, the city that I love. I'm the girl from New Jersey, I got to be in New York.'

"He said, 'There are people in another area of this business that don't know what you can do,' and I said, 'Are you talking about California?' He said, 'Yeah, I think we should move to California.' I thought, 'I don't drive. I don't want to see sunshine every day. I want the rain. I want the snow. I want to put on my galoshes,' and he said, 'No, you really have to do this,' " shared Light.
Desiderio now lives in LA, while Light lives in New York. "It's been the best," she told People. "I highly recommend it. He loves California, and I would never ask him to leave there and he would never ask me to leave here."

In my extremely humble opinion, this is the most practical and clear-eyed look at how a modern marriage can work between two people who want to live in separate places without getting divorced. Alone time is a valuable and precious resource; imagine still being married (because you want to be), but being able to live your life unencumbered, free from picking up after a human being that you genuinely love but would like to murder 75 percent of the time. Imagine being able to live your life as if you were a single person, but you were married! Judith Light sees her husband for extended periods of time when she shoots Transparent, and her husband comes to New York sometimes, too. They see each other when they need or want to see each other; ideally the distance gives them the space they need to uproot any growing resentments that spread like warts throughout the body of an otherwise healthy relationship and to just hang out with each other because they're happy!
G/O Media may get a commission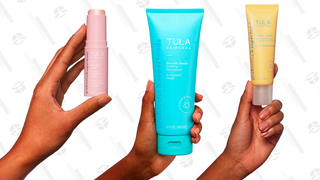 Never mind that a blithe long-distance marriage is something really only doable for those with enough money to afford jetting back and forth between the coasts—if you want this, you can make it work. Keep your apartment. Make yourself a she-shed in the coat closet. Give yourself one to two weeks a month of time alone. Listen to Judith. Do as Judith says, for it does seem like she's 100 percent correct.