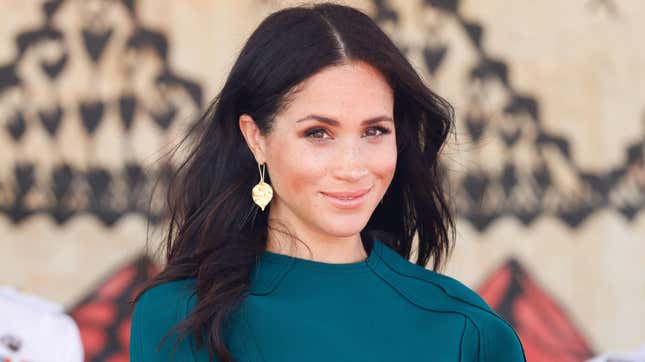 If your main form of sustenance is high-profile legal battles, you've been eating well this week! Donald Trump indicted! Gwyneth Paltrow found #Gwynnocent! Now get ready for some dessert. On Thursday, Meghan Markle won a bid to throw out a defamation suit against her filed in 2021 by her estranged half-sister, Samantha Markle.
Jennifer Hudson Achieves EGOT Status, is True American Idol
Samantha is Meghan's half-sister on her father Thomas Markle's side, and is about 17 years older than the Duchess of Sussex. Following Meghan and Harry's delicious sit-down and tell-all with the mother of all interrogators, Oprah, Samantha felt that Meghan "falsely and maliciously" claimed to essentially be an only child. Samantha's original lawsuit stated that Meghan made a defamatory statement when she told Oprah that she and Samantha only met "a handful of times" and were "virtual strangers." Meghan also suggested to Oprah that Samantha, who at that point was around 50 years old, changed her last name only after Meghan began dating Harry.
Look, I too would be peeved if someone spoke about me poorly to Oprah, and it probably doesn't feel good to have anyone in your family be like, "I don't think about you at all," Don Draper style. But even from my limited legal perspective, this seems like a weak argument.
Samantha's lawsuit also argued that the unauthorized New York Times bestselling biography written about Meghan and Harry, Finding Freedom, defamed her. Specifically, the chapter about Meghan's family titled, "A Problem Like Samantha," which begins with the sentence: "The trouble began with Samantha Markle." Perhaps she has a point there, but unfortunately, Meghan and Harry were not the ones who published Finding Freedom and the Florida judge presiding over the suit said as much.
U.S. District Judge Charlene Edwards Honeywell concluded, "As a reasonable listener would understand it, Defendant merely expresses an opinion about her childhood and her relationship with her half-siblings" and "thus, the court finds that defendant's statement is not objectively verifiable or subject to empirical proof... plaintiff cannot plausibly disprove defendant's opinion of her own childhood."
Seems like Judge Honeywell is not only a principled legal authority, but has had to preside over some sibling disputes of her own. Hopefully, this case sets a legal precedent for siblings everywhere wishing to express their opinion about wanting to be an only child.
---
Is "I wish you well" WASP for "Bless your heart"? [Page Six]
"These gays, they're trying to...honor me?" Jennifer Coolidge won a GLAAD award last night. [People]
Seth Meyers wasn't thrilled about the timing of Trump's indictment. [Instagram]
Megan Thee Stallion in talks to star in Adam Sandler film? Hollywood is back, baby! [THR]
King Charles is getting the James Bond treatment as a coronation gift. [Variety]