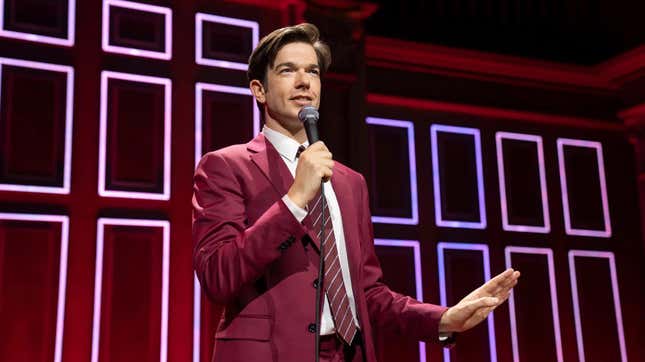 "Likeability is a jail," John Mulaney laments within the first 1o minutes of his new hour long special, Baby J. Lampooning an old time-y showman, he dances and sings about the last few years: "We all went to rehab and we all got divorced! / And now our reputation is diff-er-ent."
Jennifer Hudson Achieves EGOT Status, is True American Idol
Of course, we didn't do all that—he did. And a lot of fans, myself included, wondered if all that would be addressed in this special, because frankly, folks want an explanation.
Baby J is Mulaney's first filmed special since his late 2020 to early 2021 stint in a Pennsylvania rehab facility, subsequent divorce from Anna Marie Tendler, successive relationship with Olivia Munn, and the birth of their son—all of which happened within one year. To my nosy and selfish dismay, aside from the initial mention of his divorce and an anecdote about changing his son's diaper, he keeps the attention squared solely on himself in the special. Instead, Mulaney jokes about his "star studded intervention" and suggests (more than he details) the depravity of where his drug addiction took him: to a questionable doctor's New York City kitchen, a gas station bathroom, and a pawn shop. He also reflects on his deep seated need for attention, which he did not get enough of, apparently, from his fellow rehab peers who did not recognize him.
It isn't my favorite of Mulaney's specials, but even the tumultuous last few years of the comedian's personal life can't chip away at his consummate professionalism. Still—we know more went down, I want to shout at Mulaney's shrunken image on my laptop.
But the special is still incredibly enjoyable, and Mulaney is an elite performer. His mockery of the old time-y showman up top is as biting as it was, because for most of his career, Mulaney has embodied that exact figure: the high octane performer moving just precisely and quickly enough to outwit and comment on his own worst tendencies. In her spot-on review of the special for the Washington Post, Lili Loofbourow writes, "Mulaney's ability to step outside his own pain to make it legible but hilarious to others sparks far more curiosity about the sufferer than a memoir ever could."
Unfortunately, that's a feeling we're just going to have to live with. Baby J reveals the schism between Mulaney the performer and Mulaney the person, the addict, the ex-husband, the father. At the end of a lengthy bit about pawning a $12,000 watch in order to circumnavigate self-imposed obstacles he set up to keep himself from having to access to his own money to buy drugs, Mulaney confesses that it's hardly the worst thing he's done: "As you process and digest how obnoxious, wasteful and unlikeable that story is, just remember: that's one I'm willing to tell you."
It's easier to understand that boundary in relation to Mulaney's addiction issues, but fans seem to have had a more difficult time respecting that boundary with regards to his personal life. And I get it! The temptation to speculate about Mulaney's sobriety timeline or the inner workings of his love life is strong, and one in which I've certainly indulged. In the sanctuary of my most tactless group chats, I've dragged almost all of the key players in this spectacle to hell and back. Numerous times I've tweeted and deleted my compulsive qualms with Mulaney and Munn's claim that they met at church. (What do you MEAN they met at CHURCH?!!!?)
Likability jail seems horrible for any public figure, but especially for one whose appeal to his audience is that he's invited us into a VIP tour of his addiction—riddled, lapsed Catholic conscience. That access has created a league of bizarre, parasocially inflicted fans and ex-fans alike. The obsessiveness over Mulaney ranges from completely absurd theories (one absolutely unhinged tweet speculates that his ex-wife might have been his drug dealer) to much more legitimate criticisms (his chumminess with Dave Chapelle, who seemingly can't not tell a transphobic joke these days).
Everyone has the right to walk away from Mulaney, be it over his rapport with Chapelle or his divorce from Tendler (though, I think if the latter rattles you up so much, you have a long road ahead of you). But ultimately, the Baby J comedian doesn't owe anyone shit. If we want in any way to engage seriously with Mulaney's very funny work, we have to see and respect his efforts to break free out of "likability jail."