I think it's safe to say that Secretary of State John Kerry has not had the most tranquil of weekends. On Friday evening, we learned that PEOTUS and leering brillo pad Donald Trump had made an ill-advised call to the president of Taiwan, thereby imperiling our delicate diplomatic relations with China. China considers Taiwan a province, and so while the U.S. has sold the Taiwanese weapons, it has not—in the interest of appeasing the Chinese—established a diplomatic relationship with them. In fact, we severed ties with Taiwan in 1979, thereby eliminating the possibility of any friendly phone calls between our leaders and theirs. So we can assume that Kerry, the point person for managing this shit show, has been busy un-fucking the United States.
But whatever damage control happened over the weekend has been kept relatively private. And it would be impolitic for Kerry to censure Trump's behavior when, come what may, he will soon be training the PEOTUS's pick for Secretary of State. Nonetheless, he has indicated his feelings on the matter. Via Raw Story:
"'We have not been contacted before any of these conversations [with foreign leaders],' Kerry told a think tank conference. 'I do think there is a value, obviously, on having at least the recommendations, whether you choose to follow them or not is a different issue, but I think it's valuable to ask people who work the desk...their input on what's the current state, is there some particular issue at the moment, I think that's valuable, and I would certainly recommend it but, obviously, that hasn't happened.'"

We don't have confirmation that Secretary Kerry spent the remainder of Sunday in a dark room, sobbing as "While My Guitar Gently Weeps" played on loop, but I am confident in this hypothesis. Besides, who would blame him?
Regarding Kerry's remarks, many would agree with his assertion that there is "value" to not calling up foreign leaders when you possess less awareness of global politics than the Furby resting on your orange head. But Trump, of course, petulantly stands by his actions. In fact, today he even publicly criticized China on his favorite cyber-playground:
G/O Media may get a commission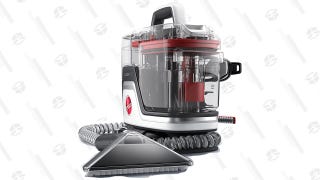 Save $10
Hoover CleanSlate Plus Carpet & Upholstery Cleaner
The Guardian reports that Trump senior aide Kellyanne Conway has diminished the implications of this telephone call.
"I know China has a perspective on it," she told Fox News. "The White House and state department probably have a perspective on it. Certainly Taiwan has a perspective on it...The president-elect's perspective is that he accepted a congratulatory call. When he's sworn in as commander-in-chief, he'll make clear the fullness of his plans. But people shouldn't read too much into it."
Oh ok, cool. Please tell China that, Ms. Conway. Just in case there's any lingering misunderstanding.
Bless us all, this is the goddamn worst.