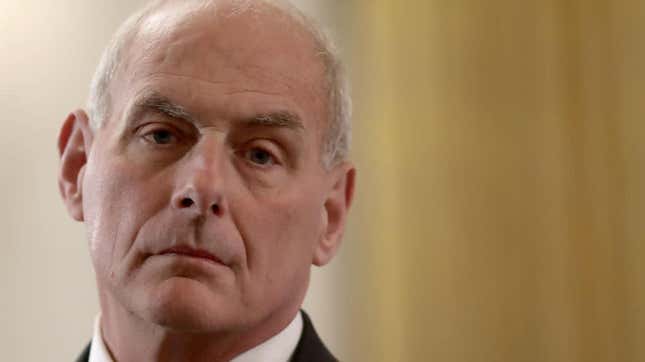 John Kelly, the former White House chief of staff who advocated for separating families at the border, has joined the board of Caliburn International, a parent company to the organization operating the largest housing facility for migrant children in the United States.
During Kelly's tenure as chief of staff, which lasted from mid-2017 to 2018, Kelly helped to enact zero-tolerance policies at the U.S.-Mexico border, policies that resulted in the separation of thousands of children from their parents. Now, according to The Washington Post, Kelly has joined the board of the for-profit company responsible for housing those children:
"A Caliburn subsidiary, Comprehensive Health Services, runs a "temporary influx care facility" for migrant children in Homestead, Fla., under contract with the federal government. It is the only for-profit company operating such shelters. CBS first reported Kelly's appointment to the Caliburn board."
The Homestead facility, which is not subject to inspections by state child welfare authorities, is currently being investigated for reports alleging sexual abuse of detained minors by the health department's Office of Inspector General. Additionally, minors held at the Homestead facility are often arrested moments before their 18th birthdays and transported to adult facilities.
Before becoming Trump's chief of staff, Kelly sat on the board of DC Capital Partners, which owns Caliburn. In 2017, Kelly suggested family separations as the best solution for discouraging mass migration.
On Twitter, Senator Elizabeth Warren called Kelly's involvement with Caliburn "immoral:" 
While he was White House chief of staff, Kelly also notably feuded with Melania and defended staff secretary Rob Porter against domestic violence allegations.