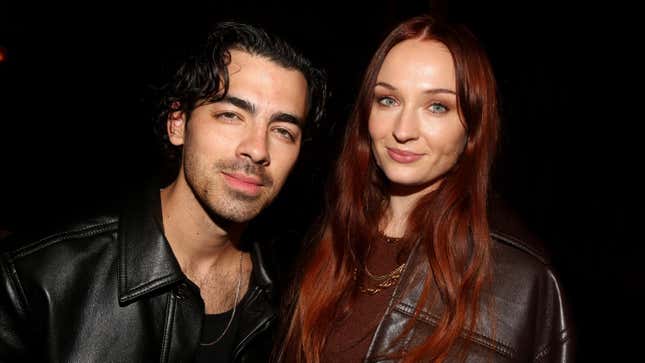 Pour one out for one of the only cool celebrity pairings and certainly the coolest amongst the Jonas brothers: Joe Jonas has filed for divorce from Game of Thrones and The Staircase actor Sophie Turner after four years of marriage. According to a divorce petition filed in Miami-Dade County and reported by Today.com on Tuesday, "the marriage between the parties is irretrievably broken."

The petition shows Jonas, 34, and Turner, 27, had a prenup in place (thank god), and says the pair should share "parental responsibility" of their two young kids. On Wednesday, the former couple posted a statement "from us two" on their separate Instagrams: "After four wonderful years of marriage we have mutually decided to amicably end our marriage," they wrote. "There are many speculative narratives as to why but, truly this is a united decision and we sincerely hope that everyone can respect our wishes for privacy for us and our children."
Rumors of the pair's demise had been circling gossip circles all Labor Day weekend (everyone was tired of cycling through celebrities' posts about Beyoncé's birthday show in LA). TMZ reported Sunday that Jonas was consulting divorce lawyers in California, despite not being a California resident! It makes sense that he finally filed in Florida, where the pair moved during the pandemic. Meanwhile, Jonas wore his wedding ring at a Jonas Brothers gig—in retrospect, trying to throw us off the scent, it seems.
Personally, I was bereft at the news! Turner seems like the coolest chick ever, and as a woman who aged from a Nick girl into a Queer, I was stoked she snagged the seemingly coolest of the four Jonases. The two seemed to bond over a love of being kooky. They started to date in 2016 when Jonas was separated from his brothers creatively (and, uh, relationally, if you believe how they talk about the Jonas Brothers' split) as frontman of the band DNCE. They were engaged by 2017.
After a multiyear engagement, Turner and Jonas married when she was 23 and he was 30, during a trip to Las Vegas for the Billboard Music Awards in 2019, which they followed up with a big ol' wedding bash in the south of France that summer. They had the Vegas nuptials because they "had to do a legal marriage before we did a real big one," Jonas told Harper's Bazaar. "It was either the courthouse, or our version, and I preferred our version. Friends, Elvis, and Ring Pops."

Once the divorce news was reported, a source from what I'm guessing is Jonas' camp began attempting to muddy Turner's name by calling her a party girl—perhaps one of the "speculative narratives" the former couple called out in their joint statement. "She likes to party, he likes to stay at home. They have very different lifestyles," the source told TMZ. This might be a lesson to all that when you marry a younger person, they might in fact be a younger person with younger person interests.
As Game of Thrones ended and Turner began the next phase of her career, so did Jonas. The brothers reconciled and started making music again. Turner appeared in music videos with the other Jonas wives, Priyanka Chopra and Danielle Jonas. But it seems like the touring lifestyle wasn't really for her.
Turner, though enjoying her time in America, longed for the land of Charles and Camilla. "I miss England so much," Turner told Elle UK back in May 2022. "The people, the attitude, everything. I'm slowly dragging my husband back. I really love living in America but, for my mental health, I have to be around my friends and my family. And also for my daughter—I would love her to get the education and school life that I was so lucky to have. England would ideally be the final destination, but [Joe] might take quite a bit of convincing! My parent's house is the epitome of the English countryside—horses, sheep, cows."
Turner was recently in England filming, while the kids have been living with Jonas in Miami and other places lately, according to the divorce petition. As TMZ made a point of reporting over the weekend: "We're told over the last 3 months, Joe has been caring for their 2 young children 'pretty much all of the time,' even as his band was touring. We're told Joe currently has both kids, as the group plays around the U.S." This is something parents with significantly fewer resources do every day: Work and take care of their children. (Apparently, we're supposed to give Jonas props for being a working father?) I can only imagine what tabloids would say about Turner if she had the children while in England.
Look, there is no amount of money that could pay me to go through a public divorce where everyone has an opinion about my life, so I'm logging off to tell my girlfriend that I might be moving to the English countryside sooner rather than later.

This story has been updated with Jonas and Turner's joint statement.