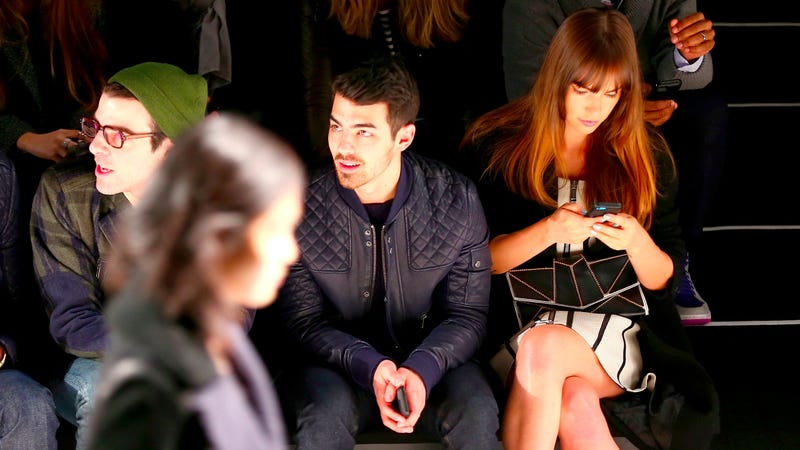 While his brother Kevin is off having a baby/renting out his house on Airbnb and his other brother Nick is taking endless shirtless selfies (never stop, Nick), Joe Jonas has moved on from his debaucherous young lifestyle and decided to write a diary about his experiences during New York Fashion Week for New York magazine. Yes.
New York last teamed up with Joe for their very popular article on what it was like growing up as a Jonas Brother. That piece seems to have forged a strong relationship between the magazine and Joe, so strong that he's been parlayed into blogging for The Cut.
In his first piece alone, we've learned a few new things about Joe that don't have anything to do with being a Disney star or the boyfriend/brother of Demi Lovato:
He's friends with designer Richard Chai.
He drinks Juice Press smoothies (Fountain of Youth flavor).
He "chatted" with Zachary Quinto and Nigel Barker and liked Quinto's outfit.
People kept their coats on while watching the shows, even though it was hot. On the plus side, this "added an element of individuality to their outfits."
This: "At times, it seemed like people don't enjoy going to shows anymore. I understand this fatigue, but they seemed almost bored, like they were just watching because they had to. Maybe it's easier to still love something if it's not your profession."
You know who didn't get a shout-out? The Sartorialist or Leigh Lezark. OR Joe's girlfriend Blanda Eggenschwiler.
Blasphemy. Joe will be back soon with more fashion week updates. We cannot wait.
Images via Astrid Stawiarz, Chelsea Lauren and Mireya Acierto/Getty For Mercedes-Benz Fashion Week