In a new interview, we learn that after almost a decade in the music business, Joe Jonas is 24 and "has control" of his life. But we also get a rare glimpse behind the scenes of Disney, the machine that churns out products for kids, tweens and teens to consume — and how it feels to be one of those products.
All of "My Life as a Jonas Brother" — as told to Jennifer Vineyard — is a compelling read. Joe and his brothers were into two things growing up: Their church and their music. They recorded their first album independently. But later, they were signed by Hollywood Records, a subsidiary of Disney. And when Joe Jonas gets into the Disney stuff, it gets interesting:
Everything completely changed when Disney entered the picture. They were geared toward a younger market, and we had a younger audience, so we started doing some Disney concerts, Disney Christmas concerts, and Disney roller-coaster openings. Then we made a music video for a cover song that we initially didn't want to do because we hadn't written it, called "Year 3000," exclusively for Disney, which led them to start playing the song on Radio Disney and the video on the Disney Channel. Before we knew it, our fan base had exploded.
Disney is huge. A conglomerate with a revenue of over $42 billion. So it's no surprise when a product marketed and pushed by Disney succeeds. But you have to wonder about the personal cost. How much a person's intimate, personal life is controlled by that conglomerate. Joe Jonas opens up a bit about how they monitored his facial hair:
Disney is great at creating fame. They've done it with so many pop stars and young actors, from Hilary Duff to the High School Musical crew. Miley Cyrus played an already-famous pop star on a Disney show, Hannah Montana, and as we were starting to blow up, we got a boost by playing ourselves, as her favorite band on her own show. That was definitely our first major love shown by Disney, and I think it might have been a trial to see whether they should give us a show of our own, and they did. We got a sitcom called Jonas in which we played characters named Kevin, Joe, and Nick Lucas, members of an already-famous band.

But the thing about the show was that some of the writing on it was terrible. It just ended up being some weird slapstick humor that only a 10-year-old would laugh at. They took out the kissing scene that Nick had. I had to shave every day because they wanted me to pretend like I was 16 when I was 20 (when the show was done, I cut my hair off and grew as much of a beard as I could). We went along with it at the time, because we thought Disney was our only real shot, and we were terrified that it could all be taken away from us at any moment.
G/O Media may get a commission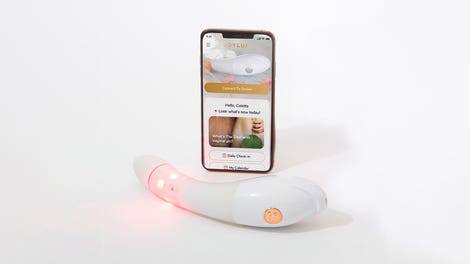 $50 Off
Joylux vFit Gold Device
Joe Jonas attempts to describe the pressure he felt as a Disney product:
Being a part of a company like that comes with certain expectations. Not overtly, but there was a subtle vibe. We were working with Disney in 2007 when the Vanessa Hudgens nude-photo scandal happened. We heard that she had to be in the Disney offices for a whole day because they were trying to figure out how to keep her on lockdown. We'd hear execs talking about it, and they would tell us that they were so proud of us for not making the same mistakes, which made us feel like we couldn't ever mess up. We didn't want to disappoint anyone—our parents, our fans, our employers—so we put incredible pressure on ourselves, the kind of pressure that no teenager should be under.
Being extremely careful about his personal behavior included being hyper-vigilant about his love life — another Disney product, in its own way:
One relationship that meant a lot to fans was the one I had with Demi Lovato, who I've known for years. We had been friends forever, we were both Disney kids, and because we played a couple in the Camp Rock Disney Channel specials—and fans liked seeing us together—we eventually dated for a month. I really got to know her and got to see the ins and outs of what she was struggling with, like drug abuse. I felt like I needed to take care of her, but at the same time I was living a lie, because I wasn't happy but felt like I had to stay in it for her, because she needed help. I couldn't express any of that, of course, because I had a brand to protect.
Joe doesn't go too much into his relationship with Taylor Swift, although maybe this is about her? Either way, it exemplifies his inability to experience normal teenage stuff because of Disney and his image:
I used to sneak out and hook up with this one girl in her car, and some rumor came out along the lines of: "Teen pop star seen in the back of a car, in a parking lot, hooking up," and the write-up was kind of explicit. I kept thinking, Oh my God, there's going to be video, there's going to be photos. The girl was also in the business, and we thought we were screwed because we were both working with Disney. It would have been the worst thing we could think of happening to us. But nothing ever came out!
There have been hints, in the past, about the micro-managing that went on with Disney stars like Britney Spears, Justin Timberlake, Ryan Gosling, Vanessa Hudgens and Zac Efron. Love lives manipulated for the benefit of the press. Images torn down and rebuilt. When some of these celebrities "act out," could it be because they were on a leash that was too tight for too long? One might even question whether or not Disney dabbles in literally molding stars — nose job rumors swirl around Britney, Justin, Ryan and Zac.
That said, it's not all misery and heartache. Disney stars have a lot to teach:
The first time I smoked weed was with Demi and Miley. I must have been 17 or 18. They kept saying, "Try it! Try it!" so I gave it a shot, and it was all right.
[New York]
Image via Joe Jonas's Instagram