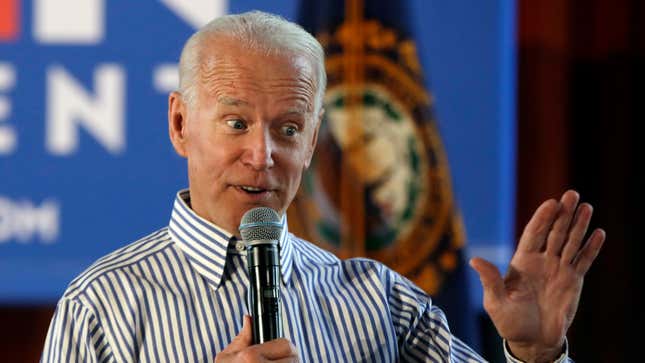 On Thursday night, Joe Biden said that he is now against the Hyde Amendment. For those following along, this new position comes after his campaign reiterated the former vice president's long-time support for the current ban on using federal funds to pay for most abortions, which came after he had told a volunteer with the American Civil Liberties Union that he supported repealing the ban, which disproportionately affects low-income people of color. So which is it, Joe?
Biden announced his new position on the Hyde Amendment at a Democratic National Committee fundraiser in Atlanta. Here's what he had to say, per NPR:
Biden, 76, a Roman Catholic, told the crowd that he voted for the Hyde Amendment as a senator because he thought women could still have access to abortions even if federally-backed programs did not provide funding for the procedure.

"There was sufficient monies and circumstances where women were able to exercise that right, women of color, poor women," Biden said. "It was not under attack," he said. "As it is now."

Now, Biden says, there are too many legal obstacles to seeking an abortion, which has prompted a turnaround on his position.
"I can't justify leaving millions of women without access to the care they need and the ability to exercise their constitutionally protected right," Biden said, conveniently eliding how he tried to do just that in 2012, when he pushed hard against the Affordable Care Act's contraception mandate. There are, of course, a lot of problems with the reasons he offered on why he changed his views on the Hyde Amendment, namely his mistaken belief that abortion rights were not under attack until recently. It's almost as if he hasn't been paying attention.
This is partly how politics is supposed to work—a candidate espouses certain views and if enough people disagree vehemently enough, then that candidate should change their mind. But it's quite frankly a fucked up situation when the leading candidate for the Democratic presidential nomination has to be pushed to take a stand to support abortion access for all, one that he in all likelihood would prefer not to take.