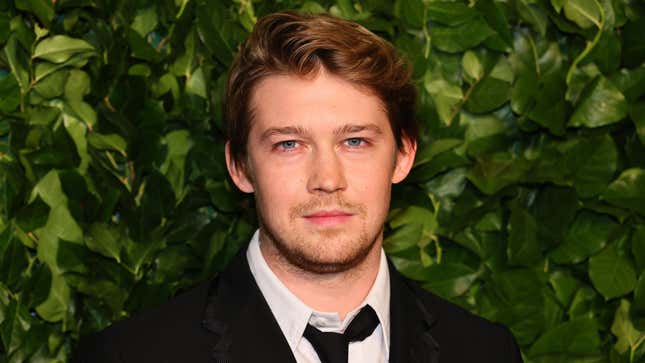 Taylor Swift likes an Easter Egg. We—you, me, the 75-year-old man who owns my bodega—understand this to be basic fact. But it would appear her former lover fancies one too.
Taylor Swift's Rep Thinks You Need to Calm Down About Her Private Jet
On Tuesday, Joe Alwyn posted an atypical series of shots on Instagram that, at first glance, might appear like any ole photo dump. But to the aimed eye of a Tumblr girlie trained in the translation of cryptic posts? It's confirmation his split from a certain pop star stung a lot more than previously reported.
Back in April, sources close to the former couple downplayed any damage done, insisting that the six-year relationship simply tapered off in time. "It was not dramatic," a source told Entertainment Tonight. Well, the breakup might not have been dramatic but this dump (of which the comments are notably disabled)? All 10 slides indicate Alwyn is posting cringe from a fainting couch.
Let's unpack, shall we? First, we have what looks to be a take on Van Gogh's Gaugin's Chair set near a window in an aging bedroom facing the sea. Now, every Art History 101 student knows that an empty chair is a form of portraiture. Often, it's representative of the person who likes to sit in it. Could this be Swift's preferred chair? It's a stretch, sure, but they did hang out on the English coastline a lot.
Moving on! The next slide is a childhood photo of Alwyn in what appears to be a Robin Hood costume. So, does this mean he envisions himself as a warrior of the poor and working class from which his ex benefits? As Swift only inches closer to billionaire status with every special project announcement while he...works occasionally, I could see it!
The third slide is a broody black and white selfie (unfortunately, the first of two in the series), closely followed by concert footage of Bon Iver (an infamous Swift collaborator!) performing the lyrics "And oh, I know it felt right/and I had you in my grasp" from "715-CRΣΣKS" (yikes), then a tree and wayward...ivy on a stone wall. OK, I'm not even a fan and I know the latter is giving folklore-core. [Editors note: "715-CRΣΣKS" also includes the lyrics "Turn around, you're my A-Team" and "A-Team" is something Swift sings in her song "End Game" from reputation. If we're gonna' Easter Egg Alwyn's post, let's really fucking Easter Egg it.]
But before we can ruminate even further on this slide, we reach the arts and crafts portion of the post. Oh yeah, he's developed hobbies—the third stage of male grief.
First, there are two patches side by side—one embroidered with a cursive "fuck" (and fastened with an Ace card) and the other, a heart with flowers surrounding it. Wow, fuck love? Original! Then, there's a drawing of an unidentified building, and finally, a doodle on the brim of a canvas La Roche Posay bucket hat that bears the quality of a free accessory one gets with a PR box of products.
Forget the building and the hat. Let's talk about this sad little scribble. Is it a pair of threes? As in three plus three equals six aka the number of years he spent with Swift? Or is it two unformed hearts, back-to-back but forever unable to face one another? Hell if I know. Either way, it's a sign—and not just that he's established a basic skincare routine as a byproduct of a broken heart.
So, what does it all mean? We certainly can't rely on the caption (two emojis: a camera and a wave), but according to my analysis: The man is still going through it. And he wants us all to know it.