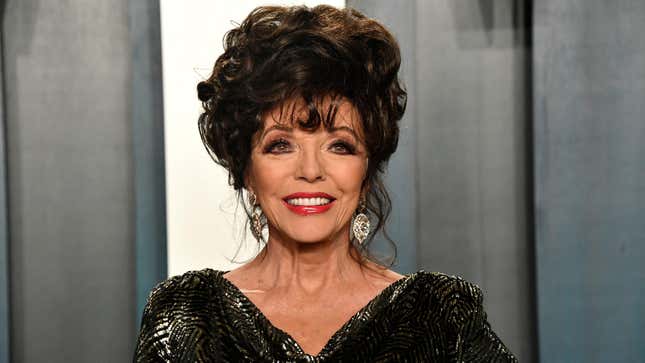 Some excerpts from Joan Collins' upcoming memoir were leaked to the press, and the actress has a LOT of negative things to say about plastic surgery.

Britney Spears Escapes Family Drama By Going to First Bar
According to TMZ, Collins thinks that our lip fillers look "ludicrous," that the Kardashian-Jenners' BBL'd bodies look questionable (though, as she notes, "Kris Jenner, the mother, is a good friend of mine and I don't want to be rude about her children"), and that onetime co-star Linda Evans' steady stream of facial work back during their Dynasty days left her scratching her head on a daily basis trying to spot what had changed day-in, day-out.
As a woman of surged-up experience who also LOVES it when old broads run out of fucks to give and get real, I'm feeling truly torn between wanting to tell Joan to fuck off and tell her to keep going... The duality of me!
---
Georgia May Jagger and Paris Jackson hung out at the 2021 Nepotista Summi—I mean Paris Fashion Week. [Page Six]
Following online accusations of queer-baiting from boundary-ignorant randos, Billie Eilish has this to say about her sexuality: "Like, oh yeah, that's everyone else's business, right? No. Where's that energy with men?" [Elle]
Shocked, shocked! To learn that noted flat earther Kyrie Irving of the Brooklyn Nets is refusing to get the COVID-19 vaccine. [NBC News]

If Britney Spears doesn't want to perform or record any new music once her conservatorship is lifted, I think that's her pre-ro-ga-tyevvvvvv. [TMZ]
Kelly Clarkson got the Montana ranch in the divorce! [E! News]
"It was time," Cynthia Bailey said of her departure from Real Housewives of Atlanta after 10 years. "It was honestly time." [Bossip]
Orange Is the New Black star Taryn Manning's engagement to singer-songwriter Anne Cline is over after two months. [TMZ]
Attention! Attention! This guy speaks for me: