After his latest victim-blaming move made one of his accusers even more determined to testify against him, people are beginning to take a look back at Jerry Sandusky's lengthy career —and at his 2001 autobiography in particular— to try to find something they may have missed, some indication that he'd been fooling them all along. And their findings coupled with the recent allegations are pretty chilling. Jerry writes:
"Pretending has always been a part of me," Sandusky, now 67, wrote in his autobiography, "Touched: The Jerry Sandusky Story," published in 2000. "I've loved trying to do the right things to hopefully make a difference in kids' lives and maybe make things better off for them. I'll never regret being called a 'great' pretender."
If that book title doesn't give you the creeps, I don't know what would.
David Newhouse of The Patriot News broke the Sandusky story and recently told CNN's Piers Morgan that Sandusky "talks a lot in that book about hugging kids, about loving to be around kids. There's some chilling things in that book, and it's only when you put them together with the allegations that you can see, perhaps, what he meant."
According to the grand jury report, Sandusky was known to be both controlling and needy, calling one of the boys over 100 times after the boy began avoiding contact with him. He also told a story in his book about a "defiant boy" in a psychiatric facility who randomly, for no reason whatsoever I'm sure!!! became cold toward him.
"You know, it's not right to treat people like this," Sandusky says he told the boy. "You should talk to me." He adds that the boy "laid into me, screaming from the top of his lungs, 'Get out of here! Get out of here!'"
G/O Media may get a commission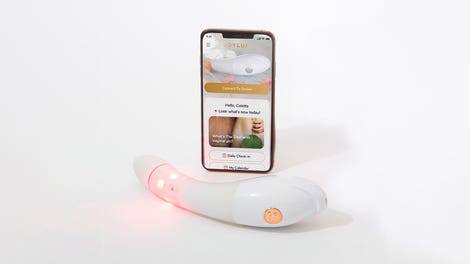 $50 Off
Joylux vFit Gold Device
Jerry has recently described himself as a harmless, overgrown kid who lives "a good part of my life in a make-believe world. I enjoyed pretending as a kid, and I love doing the same as an adult with these kids."
Good God, guilty or not, if I have to write or read about any more of this I'm going to have to take a series of showers. And even then, it's impossible to really shy away from the still untold horrors of what may have happened to these kids.
EARLIER: Alleged Victim Says Sandusky's Denial Made Him More Determined To Testify