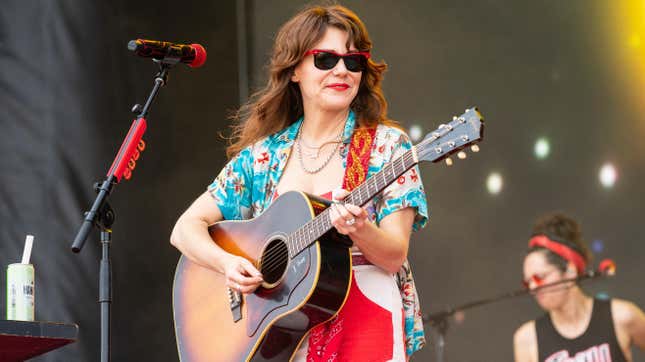 Few things yank me back to high school summers, killing time driving around suburban Maryland in friends' parents' cars more urgently than listening to Jenny Lewis sing. Her rhapsodic voice and lyrics have been dutiful companions to growing older, which is why I'm particularly grateful for her upcoming album releasing this Friday, Joy'all.
Is Emmy Rossum Old Enough To Play Tom Holland's Mom?
In an interview with the Guardian, Lewis, 47, explained how the album documents her "pursuit of joy" and what life looks like, single and child-free, in her forties. Despite "old maid" stereotypes, she says she "feel[s] better now than I have felt in my life. I'm totally single and I'm in complete control of my creative output and my schedule." Sounds heavenly.
In her music, as always, Lewis balances out the bliss with her signature real talk. One of the three songs already released from Joy'all, "Puppy and a Truck," launches with the line, "My forties are kicking my ass."
But my favorite part of the interview is before Lewis reflects on the FOMO of being childless (which I also appreciate - such a big decision is rarely black and white), when she says:
"The other day I had a visceral reaction to reading that Robert De Niro [just had] a baby and he's 79. It's the luxury of being a man or a Peter Pan – I also consider myself to be a sort of Peter Pan figure."
First of all, I, too, had a visceral reaction to the De Niro baby news. A lot of us did. Fatherhood at 79 carries high potential of two types of diapers being used in that household. But more importantly, Lewis claiming her identity as a Peter Pan figure is refreshing. Despite the actual character of Peter Pan being non-binary femme in my honest opinion, people are always using it to describe straight bros who live #VanLife and opt not to see primary care doctors. They have the luxury, as Lewis puts it, to never fully grow up and remain carefree for as long as they'd like.
The image of Lewis as Peter Pan is why I'm so continually delighted by her—a creative who's traversed many collaborations and artistic identities, who's happily in her forties without kids, who has a puppy dog who she jubilantly adores, and who doesn't seem too bogged down by anything. It's a lightness that honors life's darkness, which feels rare in a society hellbent on shaming aging women into conforming to a particular life path.
I think back on those high school summers listening to "Silver Linings" or "Breakin' Up" and crafting these future, hypothetical heartwrenching romances and an exciting adult social life in my head. Lewis' work has always provided a tantalizing blueprint for lives I might find myself living, and it seems Joy'all will continue that tradition.