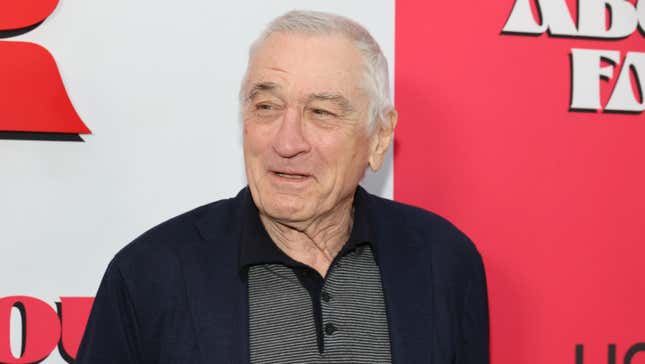 Earlier this week, 79-year-old Robert De Niro announced the recent birth of his seventh baby, and on Thursday afternoon, revealed the infant's name and sex. So huge congratulations to De Niro and his partner, Tiffany Chen, a martial arts instructor rumored to be close to 40 years De Niro's junior, on being new parents to baby Gia Virginia Chen-De Niro!

Jennifer Hudson Achieves EGOT Status, is True American Idol
CBS reports De Niro and Chen's baby, born in April, was planned: "They both wanted this baby," CBS Mornings' Gayle King said on Thursday. "They're over the moon. She was brought here in love. He's very psyched about it." Again: Good for them! I'm a strong believer that we should all be able to decide if and when to become parents and receive all the resources and support we need to do so.
I have to say, I find it pretty enviable that De Niro has lived a life blissfully free of having to field questions about his biological clock, and him having a newborn he planned at 79 certainly throws into stark relief all the gendered double standards surrounding parenting, pregnancy, and timing. As a woman, my pregnancy would literally be medically labeled "geriatric" after the age of 35. Women start getting told to freeze our eggs in our 20s if we want to have any kind of career, and we suffer through unsubtle shaming about having children later than we're expected to. I can hardly conceive of anything more "geriatric" than having a child at 79, yet I doubt De Niro's doctors said a damn word to him about that.
Pressures surrounding our feminized "biological clocks" have, in many ways, only grown in the face of technological advancements around fertility. Today, insanely young women report being inundated with invasive, targeted advertisements for egg-freezing services on their social media feeds. Different fertility treatments and technologies may work for some and not others, but egg freezing, especially, can be an uncomfortable, frustrating, and certainly costly process. And none of this is necessarily about helping or "empowering" us to plan our lives; it comes off as a reminder that we should be thinking about our ticking biological clocks at all times. We're to find someone and settle down by a certain deadline, and if we don't, we're selfish or a failure.
This is a deadline and pressure that Robert De Niro—whose eldest child is 51—will never feel the weight of. Nor will Alec Baldwin, 65, who welcomed his latest child last fall. These men may worry about their youngest kids having to grow up without them, but no one ever told them they can't just turn damn near 80, marry a woman half their age, and drop a new baby. Must be nice to be literally geriatric but only have to hear that term applied to your partner, who's half your age and carrying your baby.
But once again—happy for Bob!