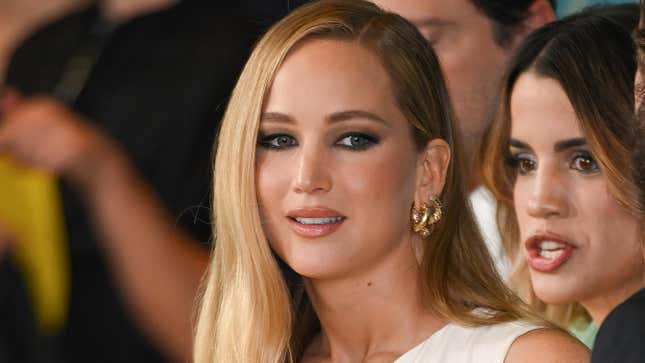 Jennifer Lawrence is continuing her radical honesty tour—meaning you can't remotely predict the random shit that's going to come out of her mouth and drop jaws on a given day. She blurted out earlier this month that her mom sold her used toilet to a colleague on Craigslist. And on Watch What Happens Live with Andy Cohen Wednesday, Lawrence admitted she barely understood the premise of her 2017 film mother! despite playing its protagonist—but she had a leg up because she was banging director Darren Aronofsky at the time.
"On a scale of one to totally confused, how much did you understand your film mother!?" Cohen asked Lawrence, who responded: "I'm going to be honest. Well, I was sleeping with the director, so I had CliffsNotes. So … 5? Or a 4. But if anybody needs any tips on understanding their films, you know what to do!" God love her.
The experimental horror-thriller, released in 2017, is rife with symbolism and abstract metaphors, as a pregnant woman (Lawrence) is bombarded by strangers who invade both her body and home with her husband's blessing. Its ultimate thesis—or so I've read on the internet, because I did not go see that shit and also have not had sex with the director—is that humans are disrespecting and denigrating Earth, our, ahem, mother!. Or something along those lines.
Lawrence and Aronofsky met through working on mother! and dated from 2016 to 2017. Despite Lawrence's claims now that she only vaguely understood the film, she previously demonstrated a strong understanding of it to Deadline in 2017, explaining the movie as "a metaphor" representing "the creation and decimation of the universe," in which Lawrence's character "represent[ed] Mother Earth, and what I have is Baby Jesus." Sounds like some pillow talk.
Her comments in 2017 also suggest she had a pretty intense experience filming the movie: "I never lose myself in a movie. This is the only time I've lost myself. I couldn't tell my body that none of it was real. I kept on hyperventilating," Lawrence told Deadline. She's also claimed she tore her diaphragm as a result of this hyperventilating while filming, and Aronofsky has said he struggled with the extent of her method acting.
In any case, I appreciate Lawrence's modesty when speaking to Cohen. It's OK to be hot, famous, and not know things—however close your proximity might be to a knowledge source.