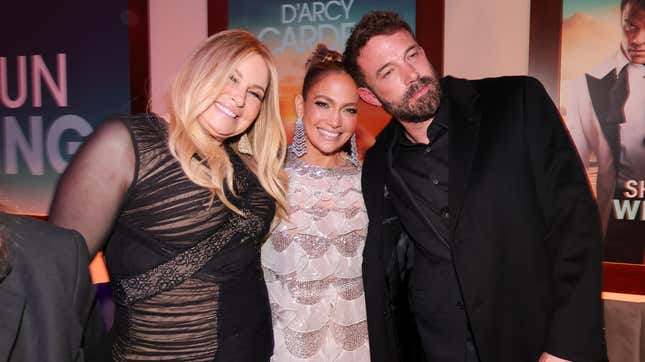 Jennifer mashup of your dreams incoming!!

Jennifer Coolidge and Jennifer Lopez have been buddying up after co-starring in Shotgun Wedding together—a film that looks rather dumb and fluffy, which is precisely my type, though I heard through the grapevine that Coolidge put the entire film and cast on her back. At the film's premiere on Wednesday night, the recently crowned Golden Globe winner was photographed cheesing with Bennifer (while Coolidge looked dazzling, poor sweet Ben Affleck looked to be…somewhere else?).

Jennifer Aydin Had Women DMing Her After Relatable Cheating Scandal
JLo, it seems, has proven somewhat of an unlikely muse for Coolidge's textbook deadpan performance art (it's a bit, right?). JLo has 15.5 million followers on TikTok and is a regular poster, which is impressive given that I cannot figure out the editing tools and have posted just one video of my dog. Now, it seems JLo has given social media lessons to JCool. This is the TikTok-ification of Jennifer Coolidge, if you will.
Late Thursday night, JCool posted her first TikTok video, and it was…a beat poetry rendition of "Jenny from the Block."

"This is my first TikTok, and I was trying to think of something cool to do, and I think I'm just gonna do a poem that I like," she says in front of a green screen, before launching into a straight-to-camera masterpiece worthy of a Shakespeare audience. JLo also makes a cameo in the video and reposted it to her feed, though we all know she is lucky to borrow clout from JCool.

I would've told you years ago that I would die and possibly murder for Jennifer Coolidge, but this monumental artistic exploration has sealed me dead and gone in my mausoleum. The "poem" choice is elite given that Coolidge said following her critically acclaimed turn in White Lotus, her neighbors are suddenly inviting her to parties. But she's still Jenny from the block, and she remembers how you treated her before she got the approval of Hollywood's upper echelons.

God bless you, Jennifer!

---