In case you were wondering whether or not Jason Derulo would date Nicki Minaj, here is your answer: he would. Yes. He would, if he were single.
"WHY JASON DERULO CAN'T DATE NICKI MINAJ," blares the Page Six headline, but the nibble of information isn't nearly as dramatic as it sounds. In a brief interview at Tao Downtown (LOL) at the launch party for his LVL XIII clothing line, Derulo clarified that he'd love to date Minaj, but can't because he's got a girlfriend.
"I would date her if I wasn't involved," he said. Okay, great, case closed, glad we figured out that he can't date Nicki Minaj not because a wizard told him that he couldn't or that the world would end if he did, but because he's got a girlfriend. Admitting that he played himself by saying publicly that has a girlfriend and is therefore off the market —"I'm not single. I'm keeping it on the low. I've been trying to"—Derulo clarified that despite his current status, many women still slink into his DMs, leaving him with many options, I suppose, should he choose.
"I get all kinds of girls busting it wide open … doing things, playing with things," he said. "They're doing videos where there's like one thing moving and then the rest of the video is a still. It's 2017. New s–t is on the horizon."
His DMs are "lit," according to him. Also, he'd definitely date Nicki Minaj if she gave him the chance. Got it? Nicki? You heard? Okay, great.
[Page Six]
---
Hey hey, Brad Pitt's found himself a new hobby and thankfully it isn't wearing bad hats or boning models or whatever.
G/O Media may get a commission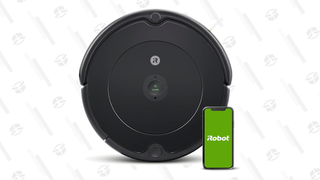 35% Off Black Friday Deal
iRobot Roomba 694 Robot Vacuum
"He recently spent many days and even nights working on a sculpture," sources told People. "People close to him are happy that he has found something new to be passionate about."
He's been working on said sculpture with his friend and artist Thomas Houseago. No word on what the sculpture is, though I would be very interested to find out. Metal? Wood? Something hulking and big and rusty, like a Richard Serra but different? Marble busts of each of his children?
He even spent the morning of the Oscar's tooling around in the stude before "cheering on Moonlight" with his friends at an Oscar's party. That sounds like a nice life.
[People]
---