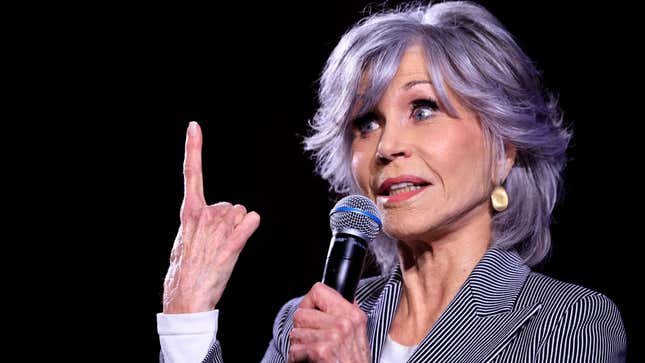 American fitness and film icon Jane Fonda, now 85 years old, appears to be entering her "no fucks left to give" era. In an interview at the Cannes Film Festival this week, she got really, hilariously honest about multiple legendary men she's worked with over the years, including Robert Redford, director Jean-Luc Godard, and actor Lee Marvin.
Jennifer Hudson Achieves EGOT Status, is True American Idol
Fonda openly admitted that she was once in love with Redford, 86, with whom she starred in five films, including The Chase, Barefoot in the Park, and The Electric Horseman. But she did not mince words about the man needing therapy. "He's a very good person," she said. "He just has an issue with women."
"The last movie I made with him was six years ago," she continued, referring to Our Souls at Night. "What was I, about 80 years old or something like that? And I finally knew I had grown up. When he would come on the set three hours late in a bad mood, I knew it wasn't my fault."
As for the celebrated French filmmaker Jean-Luc Godard, who recently died from assisted suicide in 2022 at age 91, she said, "He was a great filmmaker. I take my hat off. A great filmmaker. But as a man? I'm sorry. No, no."
Moving quickly along, Fonda proceeded to spill the tea about actor Lee Marvin, with whom she starred in the 1965 Western-comedy Cat Ballou. "He was very funny," she said. "He was always drunk. We stayed at the same motel, and they had to carry him up the stairs."
But she didn't stop there! As if she were at a private slumber party with a group of her closest confidantes, pounding whiskey, blowing lines of cocaine and revealing way too much about her celebrity encounters, Fonda continued to flap her gums about the fact that she felt like Katherine Hepburn openly didn't like her and that Michael Douglas "probably doesn't like me" either, but was just better at hiding it.
We are all better off for having heard all these juicy nuggets of goss, thank you Jane.