Janay Rice has broken her silence surrounding the elevator incident she suffered at the hands of her husband Ray Rice on February 14, 2014. Her story is chilling and at times confusing, as if Janay realizes she was hit by her husband but doesn't think that the person Ray hit was actually her.
On Monday, the Today Show released the first part of Janay's interview with Matt Lauer where she says the following about the day Rice knocked her unconscious in a hotel elevator.
"I was furious,'' Janay told Lauer. "We came home and we didn't talk the entire ride. He tried to talk to me. I didn't want to hear any of it. I just knew he hit me, and I was done. I just didn't even want to entertain it. Any explanation."
After Janay's mother Candy Palmer says her daughter is "not" the face of domestic violence, Lauer asks Janay directly if her husband had ever been violent with her before.
Rice: No. Not at all. Ray knows me. And there's no way. He knows what he would have to deal with, you know, if this was something. You know, I'm not going to sit there in silence and let something happen to me — and God forbid, in front of my child, just like, let it happen? There's no way.
G/O Media may get a commission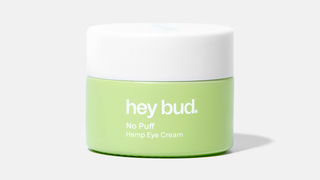 15% off
Hey Bud - No Puff Hemp Eye Cream
Rice talked about the public apology she delivered for her role in the incident.
Lauer: Did anyone at the Ravens say, 'Janay, it would be really good if you issue some kind of an apology?'

Rice: They suggested it. Yes.

Lauer: Did they come up with the wording?

Rice: No not specifically. They basically gave us a general script.

Lauer: That (apology) really started it.

Rice: Yes. And that was frustrating for me, because obviously people took it as, you know, I'm taking light off of what Ray did. In no way. I was basically, not doing what I was told, but at the same time I didn't think it was completely wrong for me to apologize, because at the end of the day I got arrested, too, so I did something wrong, too. Not taking any light off of what Ray did because I agree with everybody else. He was wrong.
Finally, in a moment that echoed her conversation with ESPN host Jemele Hill, Janay grappled with what she will tell their daughter Rayven about the elevator incident and domestic violence, in general.
Lauer: You have a 2-year-old daughter, and at some point you're going to have to sit Raven down and tell her this story.

Rice: I don't think I'll ever be prepared until that moment. But we're gonna be honest with her. You know, we're gonna tell her what happened. Let her know things like this are not okay. It's not something that she should tolerate. You know, let her know that people make mistakes and it's how you learn from them.
Over the weekend, a judge decided that Rice should still be able to play football and reversed his ban from the NFL. Eager fans have already begun drafting him, en masse, to their fantasy teams.
Image via NBC News.