"There was something different about that day," Janay Rice describes, of the day her then-fiancée Baltimore Ravens running back Ray Rice knocked her unconscious in an elevator at Revel Casino in Atlantic City. It's been over nine months since the assault took place, and in a first person account, as told to ESPN's Jemele Hill, Rice describes her experiences before and since the incident.
Her account (she was given approval over its content and release date) of the events leading up to the incident in the elevator and the aftermath reads a lot like a justification of Ray's actions. It's clear that while she really wanted to simply get through the whole ordeal and be able to put it behind her, she's ready and willing to defend her husband when it comes to their relationship as well as NFL Commissioner Roger Goodell. Some excerpts:
After the club, our friends from Baltimore, Ray and I decided to go to the late-night restaurant in the casino. Ray and I were bickering. We were drunk and tired and while I know that some people may find it hard to believe, none of the six of us can remember exactly what Ray and I were arguing about. It was that insignificant.

As we were arguing, he was on his phone and not looking at me. I went to reach for his phone, and when he grabbed it back, he spit at me and I slapped him.

We got into the elevator and what happened inside is still foggy to me. The only thing I know — and I can't even say I "remember" because I only know from what Ray has told me — is that I slapped him again and then he hit me. I remember nothing else from inside the elevator.
After seeing the footage of him dragging her unconscious body out of the elevator:
The video didn't make me rethink our relationship, but I did want more of an explanation from him. I asked him why he left me on the floor like that. I asked him how he felt when he saw that I was unconscious. He told me he was in shock. I asked him what happened when we got out of the elevator. He told me he was terrified because security was there. I asked him how he felt seeing me like that. He said he was thinking, "What did I just do?" I didn't watch the video again.
G/O Media may get a commission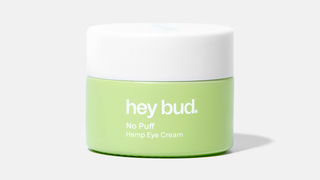 15% off
Hey Bud - No Puff Hemp Eye Cream
Later on in the piece, she describes the May 23 press conference, in which she apologized for her role, referring to her slapping him and provoking him.
When it was my turn to speak, I said I regretted my role in the incident. I know some people disagreed with me publicly apologizing. I'm not saying that what Ray did wasn't wrong. He and I both know it was wrong. It's been made clear to him that it was wrong. But at the same time, who am I to put my hands on somebody? I had already apologized to Ray, and I felt that I should take responsibility for what I did. Even though this followed the Ravens' suggested script, I owned my words.
Again, the fact that it was in the Ravens' "suggested script" is the bigger issue here. The fact that they encouraged a woman who already chose to stand by her man to claim ownership in his abusive behavior in an attempt to excuse it, remains pretty fucking deplorable.
Rice then describes her meeting on June 16 with NFL Commissioner Roger Goodell:
Mr. Goodell seemed to be a really reasonable and caring guy and wanted to make sure other people would learn from our mistake. He wanted to confirm that alcohol was a factor. He actually seemed to care about the facts and wanted to make sure that we would help other people learn from this experience.
Interestingly enough, this weekend Rice sat down with TODAY's Matt Lauer for an interview set to air Monday and Tuesday this week (the interview was taped before her husband's reinstatement). In the segment, she calls out Goodell, saying "I can't say he's telling the truth" (regarding Goodell's claim that Ray Rice was "ambiguous") and claiming Goodell threw her husband under the bus to protect his own reputation.
Rice then ends on a chilling and devastatingly optimistic note.
We know our incident led to very important discussions to hashtags of "why I stayed" and "why I left." If it took our situation becoming headline news to show domestic violence is happening in this country, that's a positive.
Image via AP.