In Call Me By Your Name, there are vivid sex scenes between a man and a woman and a graphic sex scene with a man and a peach, but viewers don't really get to see sex between the film's leading men Elio and Oliver. Despite the fact that this is a gay love story rife with sexual and romantic tension, we see more explicit straight sex than we do gay sex in the movie.
And James Ivory, who recently won the Oscar for writing the screenplay for Call Me By Your Name, adapted from the 2007 book by André Aciman, is still pissed about the glaring exclusion of male nudity in the film. In a recent interview with the Guardian, he takes issue not just with how the sex scenes were handled, but with director Luca Guadagnino's reasoning behind the decision as well:
One aspect that does still rankle with him is the absence of full-frontal male nudity. Ivory's screenplay specified that Elio and Oliver would be shown naked, a detail overruled by clauses in the actors' contracts. "When Luca says he never thought of putting nudity in, that is totally untrue," says Ivory. "He sat in this very room where I am sitting now, talking about how he would do it, so when he says that it was a conscious aesthetic decision not to – well, that's just bullshit."
"When people are wandering around before or after making love, and they're decorously covered with sheets, it's always seemed phoney to me. I never liked doing that. And I don't do it, as you know," Ivory continues. He references his 1987 movie Maurice, another gay love story, and points out that when "the two guys have had sex and they get up and you certainly see everything there is to be seen. To me, that's a more natural way of doing things than to hide them, or to do what Luca did, which is to pan the camera out of the window toward some trees."
G/O Media may get a commission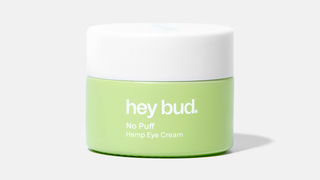 15% off
Hey Bud - No Puff Hemp Eye Cream
Guadagnino has previously explained that he left out explicit sex scenes in the film because he wanted to "create this powerful universality" and he didn't "want the audience to find any difference or discrimination toward these characters." In my colleague Rich Juzwiak's review of the film he explains this impulse to make Call Me By Your Name more "palatable" to mainstream audiences can be a disservice to stories like this.
"Respectability politics that removed sex from sexuality were crucial in the ultimate victory of marriage equality," he writes. "But it's also a massive burden on queer people to manage and compartmentalize their sexuality in a world where heterosexuality and heteronormativity are so unavoidable that they're as integral to life and easy to take for granted as the air we breathe."
Perhaps in the multiple forthcoming sequels Guadagnino has proposed, viewers will actually get to see Elio and Oliver fuck.