Well. Isn't that exciting. Apparently Teen Mom "star" Farrah Abraham has decided that a great way to boost her profile would be to release a sexual "sex tape" of her having sex with some sort of man-person. Now, I was under the (silly?) impression that a "sex tape" is something that is sincere and private and then subsequently "leaked" to the public—and that when you have sex on camera with a famous pornographic actor and then deliberately shop it around to porn companies, that's just called "doing porn." But. Anyhooz, that's what Farrah Abraham is up to these days. And her hired penis is none other than rascally minx James Deen.
Deen — a professional porn star — tells TMZ, "Word travels fast ... it isn't even edited yet. We shot it yesterday." When asked if the two were dating, based on the fact they were seen holding hands yesterday, Deen said, "Definitely not dating. Got tested together on Friday and then saw her on set. That is my only experience with the lady." As we first reported, the XXX footage is being shopped around to various porno companies — including Vivid. We spoke to Vivid honcho Steve Hirsch who tells us he's seen the entire tape and says, "It's amazing ... and I'm doing everything in my power to get the rights to put it out."
Ana Gasteyer Satirizes the Girl Boss in 'American Auto'
Let's all take a moment to remember some of Farrah Abraham's other awesome ideas. PLEASE say she did the soundtrack to her own porno. Please. I will literally comedy-jizz. (Ew, sorry.) [TMZ]
---
Whoa, whut? Sara Gilbert is engaged to Linda Perry!?!?
Gilbert, 38, who starred as rebellious daughter Darlene Conner on the 1990s TV comedy "Roseanne," made the announcement on the all-women talk show she created for CBS television.

Gilbert, 38, said Perry proposed while surprising the actress with a serenade by musicians during a picnic.

"It's, like, the most amazing proposal ever," Gilbert said on the show.
That is one fucking BADASS '90s UNION. BRB, searching artisanal bridal hat-goggles on Pinterest. [Reuters]
G/O Media may get a commission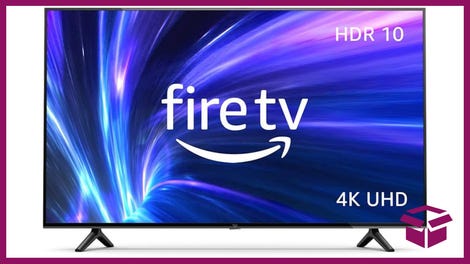 42% Off
Amazon Fire TV 50" 4K Smart TV
---
If you have like a bajillion dollars you can have dinner with Alec Baldwin.
Baldwin is on the auction block from now until April 24 in a fundraiser for the Screen Actors Guild Foundation, a charity that helps actors.

The top bidder gets four prime seats to Baldwin's Broadway show "Orphans" and dinner with the star after the performance. Baldwin picks up the dinner tab! Travel expenses and accommodations in New York are not included.
Okay, I accept. Now, would anyone like to have dinner with me? It's a fundraiser to help me raise money to purchase dinner with Alec Baldwin. Dinner with me costs $75,000 and we're having teriyaki. [CNN]
---