In a lengthy interview with journalist and former porn actress Aurora Snow, James Deen addressed the multiple rape and assault allegations against him. Deen told Snow he is "baffled" by the accusations, adding, "All of the accusations are from either ex-girlfriends or events that happened on set."
Ana Gasteyer Satirizes the Girl Boss in 'American Auto'
After Deen's ex-girlfriend Stoya alleged that he raped her during an off-set attack, multiple other porn performers have alleged that he violated them or crossed boundaries, often during on-set encounters. In his first interview since the story broke, Deen told Snow the allegations are false, and that many are contradicted by video evidence. Snow writes that Deen and his attorneys agreed to an interview with the stipulation that it would be printed in full and verbatim.
Deen claims that Stoya made her rape allegation out of anger after learning that he and a current girlfriend are buying a house together. He said the couple were "careful" with consent, but that their "messy" breakup precipitated the events of this month:
What I do know is that Stoya and I did not have a clean break up. It was pretty messy, full of a lot of emotions and both Stoya and I are to blame for that. She made threats towards me and harassed one of my employees. She spit at this employee as well as sending very inappropriate texts. I have spent this past week terrified and confused so I can't help but run through the details of our relationship in my head. The reason Stoya made this claim could be as simple as her finding out that my current girlfriend and I are moving in together. We have mutual friends, one of our friends notified Stoya of this information. It could be as calculated as Stoya trying to drive traffic to her website. Which I have to say is very well done and I am proud to have the movie I produced for her up on the site, but the same day this happened she pinned a tweet about her site that just so happened to have an update with me in it right above this madness. I can't speak to her reasoning or motivations.
G/O Media may get a commission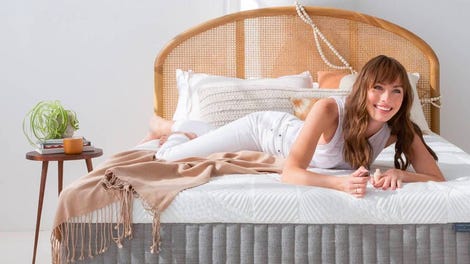 Sleep Sale
Sleep Sale - Brentwood Home
Stoya's business partner at TRENCHCOATx Kayden Kross has written that the scene with Deen was scheduled to run on the site months before Stoya's tweets; Stoya has described the tweets as unplanned.
Of the other allegations from fellow porn performers, Deen says that many happened on-set in the context of a shoot:
When I am on set I am under instruction of the company who is paying me. I could describe the events of the scene I was in the other day and it could be just as dramatic. I have no desire to blame people who consider themselves victims or throw stones. I will just say this: my job as a performer for rough sex companies is to engage in certain acts. If at any point I pushed boundaries past the point of comfort, I am sorry. I have always tried to respect peoples' limits and safe words and operated within that space. If someone expressed anything to me I honored the request with the fullest care.
And of ex-girlfriend Joanna Angel, who detailed a lengthy pattern of what appear to be emotionally and physically abusive/controlling behaviors in their relationship, he admitted to being a "shitty boyfriend" and says he's apologized publicly in the past:
She is a great person who deserves a great boyfriend. I don't get to be forgiven by Joanna and that is not anyone's problem but mine. My punishment is that one of the coolest people on the planet dislikes me and I don't get to have her friendship. I have to deal with that. No one else. I will absolutely continue to apologize to her for being a shitty boyfriend.
Deen also refused to apologize for a string of rape jokes on his Twitter feed that are, understandably, getting renewed attention. Snow asked if he had any regrets about posting the jokes. He responded:
None. I have never claimed to be a "feminist" or "the boy next door." As always, I have claimed to be nothing other than a simple guy who likes to eat, sleep, and watch TV, who also bangs chicks for a living. I am not politically correct nor do I particularly care if people disagree with me.
Deen added that in all, he has few regrets about his career or personal conduct:
I have very few regrets. I love my job and I pride myself in what I do. I won't throw my ex-girlfriends under a metaphorical bus because I made the choice to date them. I know what I did and what I didn't do. My family and the people who know me don't care about this because they know it is untrue and ridiculous.
The publicly pro-Deen camp is small, but it does exist. Porn performer Gia DiMarco, who worked with Deen on a number of Kink.com videos (a company that is now receiving renewed, negative attention, as Deen points out), told Jezebel in an email last week that she never had a bad or violating experience with him:
I've had several experiences with James, both on set and many times off set. He never forced himself upon me, always respected my limits and listened any time I said "no".

It saddens me that other women have had opposite experiences with him.

It also saddens me that we seem to be living in a "guilty until proven innocent" society, where someone can be accused, tried, and condemned on social media, without being given due process.
A site called The Real Porn Wikileaks also published an "open letter" not long ago from an anonymous person identified as an "industry vet," who called the allegations bullshit and accused Stoya of being emotionally unstable. The person, who identifies himself as male, also says that while Deen is an "asshole," he's not a rapist:
Here's the thing; James Deen is an asshole. I know because I'm an asshole, and it takes one to know one. He won't deny that. He's had moments of being a prick, a diva, and a rough sex performer.

That's a very different thing than being a rapist. And it's also something you could say about every single man in this industry from time to time. I don't care who the guy is, somewhere there are ten girls with the same stories about him, possibly true, possibly not, probably somewhere in the middle.
The most recent rape allegation—and least characteristic—is Teen Mom star Farrah Abraham, who told the Daily Mail yesterday she was raped by Deen in 2013, during the making of their porn video. (Abraham claimed the video was a leaked personal sex tape for some time, before admitting it was porn and releasing a sequel.) Snow writes that Deen wasn't able to address that allegation by publication time. He also told her that "at this moment" he doesn't plan to file defamation suits against his accusers, and reminded her that he is not under criminal investigation.
---
Contact the author at anna.merlan@jezebel.com.
Public PGP key
PGP fingerprint: 67B5 5767 9D6F 652E 8EFD 76F5 3CF0 DAF2 79E5 1FB6
Image via AP Images.