On November 28, 2015, porn actor and writer Stoya publicly accused ex-boyfriend and fellow porn actor James Deen of raping her. Since that afternoon, a host of women who have worked, or currently work in the sex industry have come forward with allegations of abuse at Deen's hands. Today three more porn actors have spoken out, identifying Deen as willfully disrespectful of sexual boundaries.
Ana Gasteyer Satirizes the Girl Boss in 'American Auto'
According to Tracy Clark-Flory of Vocativ, sex industry actor Lily LaBeau experienced "the most traumatic thing that's happened to me in my career" while filming a scene in which Deen participated for Kink.com's Upper floor, "a live-streaming BDSM group sex series." LaBeau tells Vocativ that Deen was not slated to appear in the scene, but "it is not uncommon for on-camera audience members in the Upper Floor's party scenes to interact with the female talent in a limited capacity, nor is it unheard of in LaBeau's experience for professional performers who are not officially scheduled for the shoot to participate."
Whenever porn actors perform—and especially in BDSM scenes—they detail the parts of their body that are "off limits" to contact like "slapping or flogging." They delineate the sex acts to which they consent and are moreover clear about the toys and props that are acceptable for use. LaBeau lists the cattle prod, a shocking device, as one of the props on her "no list" — a list of which Deen was reportedly aware. However, when he began to engage with her, he "grabbed a cattle prod...and held it near her head."
Deen reluctantly stepped away after LaBeau screamed, "it's on my 'no,'" but, as she explained to Vocativ, he was unwilling to entirely cooperate:
"They go back and forth briefly about whether other electrical shocking devices are O.K.—'You know I don't like electricity, sir,' she says at one point—and then she relents, allowing Deen to use another device on her. He is shown using it to shock her on her breasts and holding it to her tongue as she is having sex with [another male performer].


Later, LaBeau said, Deen grabbed the paper list detailing what she was and was not willing to do and began systematically trying or instructing the other female performers present to try the acts she had indicated were OK."
G/O Media may get a commission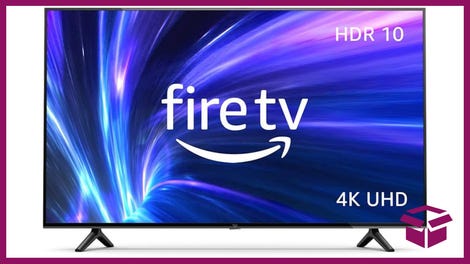 42% Off
Amazon Fire TV 50" 4K Smart TV
But the most traumatizing moment came at the end, when, after Deen put his foot in LaBeau's mouth and slapped her on the face with unusual intensity, she realized she had lock jaw. She tells Vocativ,
"I honestly don't remember what happened after that...I'm still dealing with the trauma from it. Even talking about it right now, little tears come to my eyes...Even to this day, certain people holding my head a certain way will bring up a lot of trauma and cause me to start crying."

Derrick Pierce, an actor and director who performed in the scene with LaBeau and Deen, confirmed LaBeau's narrative, as did another female performer who asked Vocativ to remain anonymous. And yet another anonymous female actor reported to Vocativ that whenever she filmed scenes with Deen he "pulled my hair harder than he needed to and he slapped me harder than he needed to." She continues:
"Most performers, if it looks like they're being very aggressive, what you don't see is their hand positioned in a place to make sure you don't hit your head or that you're comfortable. Most male performers do that. James is the opposite. He's the one who will make it look like it's this romantic scene to the camera and what you don't see is that he's twisting your nipple or pinching you or jabbing you in some way."

LaBeau implies that Deen's power in the sex industry enabled him to abuse his co-workers without recourse. In fact, she told Pierce that she had not protested when he entered her scene because "since he got so much work...[she] didn't want him 'getting pissed off.'" She even continued working with him in order to advance her career. And indeed, she ultimately snagged a small role, due to Deen's recommendation, in "The Canyons," where Deen starred with Lindsay Lohan.
From his work in porn direction and acting Pierce has also known for some time that Deen "doesn't like limits," but "the incidents were not alarming enough for Pierce to stop working with [him]." However, with the onslaught of allegations, Pierce tells Vocativ that "he would never cast him again."
And yet, LaBeau emphasizes that this violent disregard for boundaries extends beyond Deen — and that her testimony and those of her fellow performers should galvanize tighter "safeguards to protect performers...[and to not] just condemn Deen."
"The thing is, Deen isn't the only one who's crossed boundaries," LaBeau tells Vocativ. "James is the one that was the worst, but there's been others. It's not just James and that's the problem."
---
Contact the author at rachel.vorona.cote@jezebel.com.
Image via Getty.