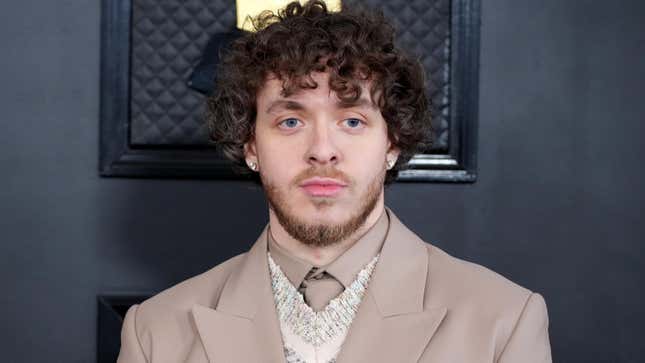 On Friday, white rapper Jack Harlow dropped a semi-surprise album he'd announced just two days earlier, and the reviews are… mixed. Some are saying Jackman. (not a typo) is his best work yet. Others say the album left them with more questions than answers. It's certainly a confusing shift in tone from his previous nonchalant musical offerings—as Vulture put it, "The once horny white boy of the moment is now rapping about racism, sexual assault, family, and fame."

Dirt Bag of the Week: Katharine McPhee
But one track in particular has me—and large swaths of the internet—utterly perplexed, and that is "Gang Gang Gang," a song (?) in which Harlow raps about childhood friends he's learned have been accused of sexual abuse. I gave the track a reluctant listen only after clips of it kept leaking onto my Twitter feed, because users were raising puzzled eyebrows at the song's graphic lyrics, which include:
My friend pulled me to the side like, "Did you hear about Marcus?"
Our Marcus? "Yeah, our Marcus"
"A bunch of girls say he raped them in the back of some Target" …
Wait, which Marcus? 'Cause it can't be—
"Yes, our Marcus"
"The same Marcus we collected Pokémon cards with"
The one with perfect grades that has family in New Orleans?
"Yes, that Marcus, he's got seven rape charges"
And:
My friend pulled me to the side like, "Did you hear about Kevin?"
Kevin who? "Our Kevin"
What happened? "He got arrested"
"They found a bunch of messages he sent to lil' kids"
"And apparently, he met up with this ten year old and the now the kid's sayin' he got molested"
Genius Lyrics characterizes the track as a meditation on "how you can never really know someone and who they truly are" and a call-to-action for listeners "to hold their friends accountable irrespective of their relationship with them." This, in my opinion, is a fairly generous description. But I will give reluctant credit where it's due: The song is a big, bold swing, and its core message—that you shouldn't put anyone in your life on a pedestal and recognize even people you're very close to can do awful things—is brave and important.
At the same time, the song is just… bizarre. And ultimately, I struggle to take seriously any social commentary on gender-based violence and accountability from the rapper, who's an unapologetic collaborator with Tory Lanez. Lanez, you'll recall, was found guilty in December of shooting Megan Thee Stallion in 2020.
Before this ruling, Harlow defended keeping Lanez on a remix of Harlow's track "What's Poppin'" even after the shooting and suggested that Lanez wasn't the one who shot Megan. Harlow told Rolling Stone last year, "It doesn't feel right as a grown man to speak for other grown men all the time. … One thing's for sure, is that Megan got shot. And I wish her nothing but love and respect."
Megan has been vocal about how the aftermath of the shooting, which saw her trauma become a punchline among fellow rappers and hip hop blogs, plagued her mental health, all while few used their platforms to defend her. Harlow may have thought his acknowledgement that "Megan got shot" was a satisfying enough response, but all it really did was imply that he doesn't believe Megan's word that Lanez, specifically, shot her. He hasn't spoken on Lanez or the shooting since the Rolling Stone interview.
All of this is to say, I'm not sure I need to be lectured on accountability by someone who couldn't even perform the bare minimum of saying he believed Megan or removing Lanez from his track. If Harlow is as keen on accountability as he claims, maybe he could start there!