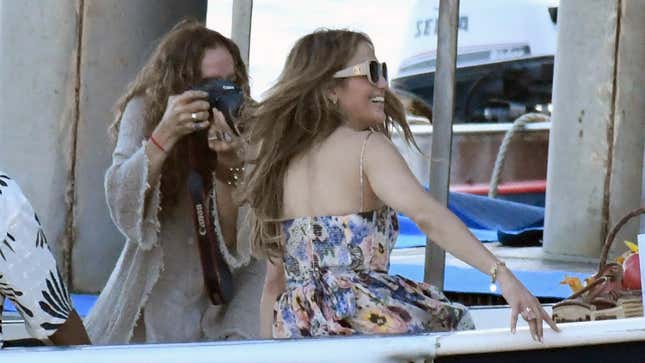 In the early hours of Friday morning, Jennifer Lopez (aka J.Lo—or is it J.Aff now??) posted three Instagram photos of herself lounging in the Amalfi Coast sun—as celebs are wont to do. She's wearing a white-hot bikini and has five goblets of ice, a bucket of alcohol, and a big-ass plate of fruit set up next to her. She gives a "candid" laugh and a smoldering, mouth-agape duck pout. They're great photos! And, of course, we love to see celebs being themselves on social media, especially celebs who sing about being "real."
D'Arcy Carden Thinks Too Many People Have Overlooked Her Role as J.Lo's Stepmom
Except, wait a minute, these carefree vacation photos are—gasp—actually just an ad for her alcohol brand, Delola (more on that in a sec). In photos obtained by the Daily Mail, we can see a photographer directing this little late-afternoon aperitivo. The same photographer also appears to be capturing plenty more "candid" moments of J.Lo and her friends on an Italian boat.
To be fair, J.Lo did tag the photographer—Ana Carballosa—in the aforementioned Instagram post, so she's not exactly hiding it. And by the looks of Carballosa's own Instagram, she seems to be J.Lo's longtime photographer. (Also because she's credited as the only photographer on True Love, J.Lo's 2014 book.)
Plus, if I'm a rich celeb on a fancy Italian vacation, I'm for sure not going to rely on my bitch-ass friends or worse, my dumbass husband, to take any grid-worthy photos of me.
Personally, I'm more so questioning why Jenny from the Block, who's long bragged that she doesn't eat sugar or carbs or drink alcohol, is now shilling for a cocktail company. "I know that a lot of people have been talking about like, 'Oh she doesn't even drink. What's she doing with a cocktail line?' And to tell you the truth, that was true for a long time. I didn't drink," she said in an Instagram video in July (which does look like she filmed herself!).
But that's apparently all changed now. (Maybe Ben Affleck said they should diversify their marital revenue streams??) "I do drink responsibly," she added. "I don't drink to get shitfaced." Sounds boring.
---