Jennifer Lawrence is currently shooting Joy with David O. Russell, the director known for being both brilliant (debateable) and a huge pain in the ass to work with (evidence here), and the two are apparently unhappy with each other, getting into a violent screaming match on Tuesday that sent bystanders for cover.
TMZ reports that the fight may have been some kind of method acting (J.Law may have just had enough of spending an entire week of trying to be a table, be a sportscar, ice cream cone), but their source reports that it was less Stanislavsky and more Jerry Springer, with Lawrence yelling at the director about the way he was directing a scene. And considering how scary she was in Silver Linings Playbook (another David O. Russell joint) when she threw shit all over the place, I'd say even if she was acting it was probably scary. Which I guess is the point? I don't know, I am no longer an actor. After a disastrous run in community theatre at the age of 20, I decided to leave that life forever. Lots of things might have changed since then.
But that's not all.The director also forbid Harvey Weinstein from entering the set when the movie executive wanted to come down to talk to Lawrence and reduced a female studio executive to tears when he yelled at her for defending someone he wanted to fire. All in all, he sounds like a really pleasant guy to work for, method acting or no. [TMZ]
---
To thank Instagram followers for keeping up with her, Kim Kardashian celebrated reaching 27 million fans on the popular images-of-my-lunch-sharing platform by posting a #TBT of her in a thong in London. I don't know what the two have to do with each other, but now I'm both upset that Kim has 27 million fans and am wondering whether I'm going to have to post my own racy pictures when I reach 27 million followers on Twitter (I don't use Instagram because the filters make me anxious).
G/O Media may get a commission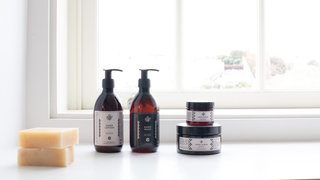 Exfoliate and Hydrate
The Handmade Soap Company
Fans are responding to Kim's generosity by either thanking her for showing off her ass, demanding to know where they, too, can buy the matching thong or bra she is wearing or by favoriting the picture and then reminding Kim that she is trash and they have no respect for her. Fine, but you also don't have 27 million followers, Kris Jenner, so maybe you should stop talking trash.
That couch looks comfortable, though. Where can I get one of those?
Welcome to Thursday night! Here is the most terrifying video you will ever see in your entire life!
Lead image via Getty