Memorial day is the unofficial start of summer, and J.Crew has what you need to kick off the season: Slinky little bathing suits, preppy little shorts, and dresses so hideous you may need to shield your eyes.
Wouldn't it be nice to be sitting in the sun, gorgeously lit and daydreaming, while carrying a big bag of nothing and some stylish sunglasses? Yes. Yes it would.
All together now: Don't slouch!
G/O Media may get a commission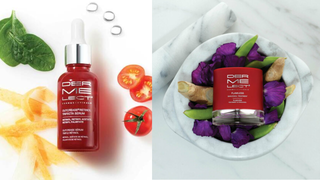 Save $19
Retinol Renewal Kit
I'm all for swimming in jewelry — I am the kind of person who keeps all rings, watches and bracelets on while frolicking in the Mediterranean — but this ensemble — long necklaces and long-sleeved, belted sweater — is not conducive to doing a laps in the lake. Do not attempt!
The retro ruffled bottoms are too cute. TOO cute.
Digging the gingham shorts, even if my dignity and thighs will prevent me from ever wearing them.
The "Travel Note" on this page points out that this was shot on location in Guatemala.
Our own Jessica says:
I got this catalog in the mail last weekend, and I immediately recognized the doorway the model is standing in on the back cover... and it was because my boyfriend photographed me in that same doorway! And then I recognized this dock they're sitting on… And it's because we laid on the same damn dock! They're all over Guatemala, where you could get fucking robbed for wearing J. Crew.
As for the cover shot, Jessica notes:
She's standing on a boat on Lake Atitlán — which is where Huxley tripped out for a stint.
The more you know!
More cute shorts — and cute shoes! Would I pair the shorts with the matching shoes? No, I would not. But clearly I do not work for or model for J. Crew.
Oh dear. She looks a little ill. Perhaps it's too hot for cashmere? No matter how "feather-weight" it is?
Everything but the hat. Which was, according to the copy, "adorned with jewelry by our stylist." Bad idea.
As a person who loves flip-flops but hates muted colors I feel confused. Help.
Jenna's Picks! Which I never like. Today, special hate for number 8, the "pretty petal mini" in a color that could be called "clay from first grade" but is actually called "mink." The tank (number 3) is pretty, but at $795, it had better come with someone to sew the beads back on as they inevitably fall off.
What we have here is a sequined sweatshirt. Part of me — the part that wanted to go to Studio 54 even though I was only ten — really wants it. The other part of me is echoing Seth and Amy: Really?
The petal mini: Not so bad in black!
Gorgeous embroidered top, even if $78 seems a little steep (how much do you think you'd pay for one in Guatemala?). Ixnay on the orts-shay, however.
Yay! An outfit to make all your Frenchy-French dreams come true! The sequin boatneck tee adds a little glam; the "ankle-length" pants are très chic; and the ballet flats? Oh la la! Matinee tickets to see Breathless not included.
WTF. How can J. Crew put together adorable ensembles on one page, and then deliver hideousness like this? Girl, you look confused because you are "wearing" a plaid shirt with a bronze bubble skirt. And the shirt is falling off. And the wedges don't go. We feel sorry for you.
Ew. Nina Garcia and Michael Kors would jave a fit if this came down the Project Runway catwalk. Shiny, misshapen, unflattering, bizarre. And. Ugly.
This is how I dress and what I look like in my Gossip Girl dreams. Yeah, that's right. Don't judge. Now where is my headband?
Dreamy! Diaphanous! Divine! Delicate! Delightful! And some other D words. $3,500? Damn. Dear.
Fug, fuglier, fugliest. These dresses do nothing but distract and disfigure, and these are models. Imagine if they were mere mortal bridesmaids. Poor things.
These two are so charming together I wish it was a real wedding. I would buy them a toaster with a window in it.
Torn about this: A mix of high and low can be exciting, and cool. And Carrie Bradshaw did tank top with tutu first! But a striped henley tank with a chiffon ball skirt? Sigh. Check it out: Her date can't even look her in the eye!
As we leave Guatemala, Jessica notes:
The ruins in the men's section? That's where my boyfriend and I almost died of dysentary in a cabin that had no bathroom door. Which was a real bonding experience. It's amazing we can still have sex after that.
J. Crew [Official Site]
Earlier: Memorial Day With Williams-Sonoma: Nom!
Catalog Fantasies: The Life Your Life Could Be Like
Inside The Very Pink & Very Pricey Barbie Catalog
The Pyramid Collection: Shopping For Free Spirits & Black Widows
Mother's Day At Dean & Deluca: Cake, Pie (And Rib Roast)
5 Fugly Things Urban Outfitters Wants You To Wear This Spring
April At J. Crew: Floral Rompers & Rugged Dudes Who Are Good With Their Hands
See also: All catalog posts