"What does having a set of ovaries have to do with directing a film? It's through her eyes that she sees," the Oscar-nominated Hurt Locker actor Jeremy Renner said on a 60 Minutes segment about director Kathryn Bigelow.
"Not through her mammaries or anything else that defines her as a woman, right?" Renner continued.
Everyone, including James Cameron, acquitted themselves admirably in the segment last night, except maybe for Leslie Stahl, whose faux wide-eyed wonderment seemed one Gee Whiz away from Gretchen Carlson.
Though there was lots of substantive material on the content and making of the film, including interviews with real-life bomb techs, Stahl led with the Cameron-Bigelow marriage angle, which Cameron defused:
"There's this whole thing that's going on where people love to, they love to create a headline: 'Battle of the exes,' you know, 'War of the roses.' We were married two decades ago for a brief period of time and we've been friends and collaborators since," Cameron said.
G/O Media may get a commission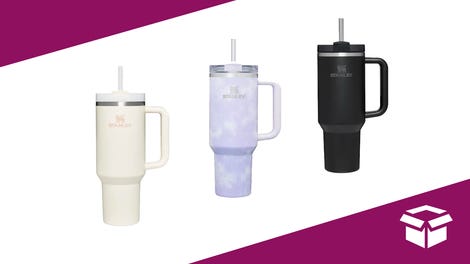 Up to 45% off
Stanley Cup Sale
"This muscular, somewhat violent world that she's attracted to - do you understand what she's drawn to there?" Stahl asks Cameron. He says,
"I think the idea of war and conflict fascinates her. And so it's something that's out there in the world that she's trying to understand. I think she also takes pride in the fact that she can outgun the guys, you know. That just in pure technique, just pure game, she's got more game than most of the male directors out there."
In the web extra, Cameron's fuller quote includes him downplaying the surprise factor of Bigelow's focus on male characters, saying that people have said the same about his strong female characters, and that directors follow their curiosity.
Cameron continued his campaign strategy of being gracious to Bigelow but emphasizing that she should win Best Director and leave Best Picture to Avatar.
"I think it's an irresistible story to finally be able to award the very first directing Oscar to a woman and Kathryn, you know, I mean, I'm sure she'll be very ambivalent about this because she'll be of a mind that, wait a minute, I want to win for the work. I don't want to win because I'm a woman. But I think it's irresistible at the moment of voting, that story."
Bigelow herself says,
"There's really no difference between what I do and what a male filmmaker might do. I mean we all try to make our days, we all try to give the best performances we can, we try to make our budget, we try to make the best movie we possibly can. So in that sense it's very similar. On the other hand, I think the journey for women, no matter what venue it is - politics, business, film - it's a long journey."
Kathryn Bigelow's Shot At Oscar History [CBS News]
Extra: Outgunning The Guys [CBS News]
Earlier: Playing Dumb: Jon Stewart Calls Out Gretchen Carlson On Ditz Act
The Transvestite Of Directors: A Backlash Against Kathryn Bigelow?
How Bad Is Sexism Against Kathryn Bigelow?
James Cameron Says Kathryn Bigelow Can Win One Of The Oscars Cause He's Already Got So Many
Nora Ephron: When You Direct A Movie, What You Are Is A Director, Not A Woman Director
James Cameron & Kathryn Bigelow Used To Be Married — Get Over It.