We were as disappointed as anyone at The Hurt Locker's Golden Globes shut-out Sunday; as for Avatar, I wish I'd watched it on mute. But the predictable meta-analysis of directors Kathryn Bigelow and James Cameron's long-ago marriage is already egregious.
Up until recently, commentators have exercised relative restraint with explicitly pitting the two against each other— maybe because the major awards are only just beginning to be handed out, or because Bigelow winning every directing award up until now was less interesting than the Goliath Cameron breaking her winning streak on the biggest stage yet. (Or maybe because Bigelow has skillfully refused to take the bait, such as when the Los Angeles Times asked her about it after the Critics Choice Awards Friday).
But for anyone searching for a storyline in a muddled year, exes facing off is as sexy of a meme as any. (As was, to a lesser extent, Nancy Meyers' commercial success over her Alfie-creating ex-husband and former collaborator.) That's despite all evidence that Cameron and Bigelow, who were married from 1989-1991, remain friends and that he was a booster even before he obligingly gave her props in his Golden Globes acceptance speech. As Michael Musto put it in The Village Voice on January 7,
Alas, though I'm desperate for their golden competition to turn into the most bitter battle royale since Olivia deHavilland and Joan Fontaine, there seems to be a frightening amount of good will brewing here. In fact, Cameron and Bigelow are friends (Their split was way back in 1991) and he's even the one who advised her to direct The Hurt Locker when she was focusing on some other project!
Bigelow and Cameron are both nominated for Directors' Guild of America awards, held January 30, and the forthcoming Oscar nominations (announced February 2) are likely to amplify this kind of talk, both in the directing and Best Picture categories.
We've celebrated Bigelow's triumph both as a filmmaker and as a woman working outside the usual spaces. And yeah, it can be hard to resist a good backstory. But whether or not Avatar keeps beating The Hurt Locker, making it about some sort of personal reckoning, with Bigelow cast as wronged woman with a shot at justice, is reductive and unfair to the film she made — and to her as a filmmaker. Her work can stand on its own.
G/O Media may get a commission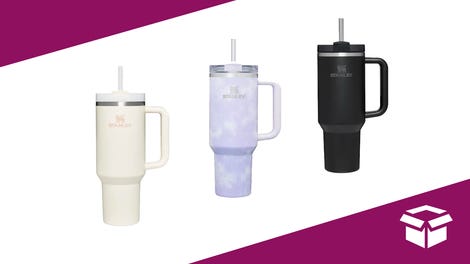 Up to 45% off
Stanley Cup Sale
Regrettably, the worst offender in this regard so far — with a headline like "Avatar Owes Hurt Locker Alimony" — is a post at Double X (emphasis mine):
Seven critic's groups named Bigelow the year's Best Director, while five called her film Best Picture. No critical circle gave Cameron a Best Director nod. If Bigelow had won the Golden Globe for either Best Director or Best Drama, she would have been the first woman ever to do so. Bigelow is also Cameron's third of five wives. Cameron is Bigelow's only husband to date....He had 15 years to release his monster spectacle and yet had to do it the same year his ex-wife, struggling for decades in the boys' club of Hollywood, made the most critically beloved movie of the year?
Man, Bigelow really loses on that wedding bell tally. And is it really realistic to posit that with all the capricious Hollywood studio machinery at work here, these films' release dates really came down to a twenty-year-old divorce?
But hey, we all know what this is really about. Just look at The Huffington Post's typically nuanced and sensitive take on Friday:
At least Bigelow wins where it counts. For a woman.
Avatar Owes Hurt Locker Alimony [Double X]
It's James Cameron Versus Kathryn Bigelow! [Village Voice]
James Cameron And Ex-Wife Kathryn Bigelow Up For DGA Prize [Monsters And Critics]
Kathryn Bigelow Looks Younger, Wins More Awards Than Ex, James Cameron [Huffington Post]
Best Picture Oscars Race Is Pure Drama [USA Today]
What Kathryn Bigelow Thought Of Beating Her Ex-Hubby, Avatar Helmer James Cameron, At the Critics' Choice Awards [LATimes]