There are a few things I know: birds are dinosaurs, the perfect amount of humidity actually makes my hair look better, and cheesy pasta does not, under any circumstances, lead to good sex.
On Thursday, Refinery 29 published a recipe for something called Come Fuck Me Penne à la Vodka, a pasta dish that will, in theory, make men instantly hard. The writer learned about it at a "Manhattan dinner party" when one of her female friends (the Charlotte) lamented that she hadn't slept with the guy she was seeing (presumably the Trey).
"Have you tried Come Fuck Me Penne à la Vodka?" asked the Samantha, sipping her wine. "I'll send you the recipe—make it on the third date. Done deal."
The article continues:
According to New York City lore, the ladies in the kitchen told me, Come Fuck Me Penne à la Vodka was a magical pasta dish that, when prepared EXACTLY ACCORDING TO THE RECIPE (they were very careful to say), made people putty in your hands. More specifically, in your bed. Desiring you like never before.
G/O Media may get a commission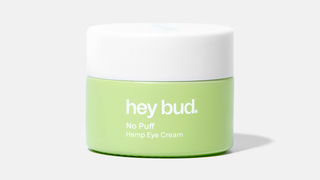 15% off
Hey Bud - No Puff Hemp Eye Cream
Am I to believe Streganona Jones is advocating feeding a man or a woman you barely know hot cream pasta and then stripping nude for a night of butt bumping? What if your partner has some kind of dairy or gluten intolerance and the all-night fuck fest turns into an all-night fart fest? Also, who would show a potential lovah one's kitchen so soon? Also, also, the act of successfully cooking penne is not even impressive! Also, also, also men are impressed by most food so probably it doesn't even matter what you serve them? Also-est, what kind of a name is Come Fuck Me Penne? Better names include: Fideos al horny, Pasta e fuckioli, Spaghetti alla puttanesca (whores), cacio e pussy, Spaghetti Car-boner-a, boinked ziti. Alright, none of these are great.
If one person makes this heavy carb-based meal and has a pleasurable sexual experience with another person, please let us know.