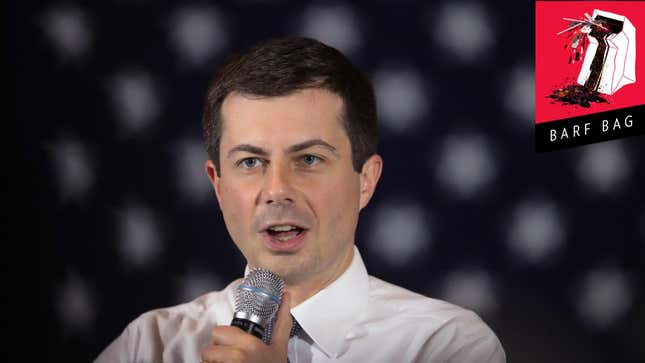 After Pete Buttigieg's comments about lack of support for education in the black community were so resoundingly discredited by The Root's Michael Harriot that he had to make an 18-minute call to attempt to set things right and still became a hot topic on The View, Pete probably just wanted to put his feet up and enjoy the long weekend.

Well too bad, Pete. If you wanted to eat pie early then you shouldn't have taken $7,200 from the Brett Kavanaugh lawyers, Alexandra Walsh and Beth Wilkinson. Walsh and Wilkinson were part of the legal team who presented Kavanaugh as the victim of false sexual assault allegations from Christine Blasey Ford, among others, painting her as an opportunist who could and should have reported as a teenager instead of waiting until she was given a national platform through which to receive death threats.
Buttigieg's campaign told the Guardian that with so many donations, it's hard to tell which ones come from lawyers who help anti-choice judges get seats on the Supreme Court despite multiple allegations of sexual assault. Pete's returned the money; perhaps he will call Ford and listen for an 18-minute explainer on why it was wrong in the first place.
Wilkinson has also donated to the campaigns of Kamala Harris and Kirsten Gillibrand, neither returned the Guardian's request for comment. [The Guardian]
Let's do a little pre-Thanksgiving barfing
And as a little Thanksgiving amuse-bouche, how about we have an open thread around what we're all most likely to argue about with our families tomorrow. Perhaps we can use this space to practice dunking on our racist uncles and anti-vaxxer aunts.
I'm thankful for each of you, my partners in barf.