Remember that Lemonade response album Jay Z was supposedly working on? Probably not, but now you do. Because cooler heads usually prevail, it seems the response album has possibly been traded in for the long-awaited, often gossiped about Jay Z and Beyonce joint album.

For pretty much the entirety of their relationship, rumors about a joint album for the couple have a-swirled. At the 2015 Grammys, the rumors were somewhat substantiated by producer Detail who explained that he was working on a project with the couple. Just this May, Page Six reported that an album from the couple was imminent.
The most likely clue, caught by Idolator, that any of this is true comes from a Beyoncé fan account with a history of such accuracy that it can only be explained by direct leaks from Beyoncé's camp. The Bey Hivé account recently teased lyrics from a "joint album session," which was presumably attended by Jay Z and Beyoncé
Now, a "joint album session" could be anything. They could be recording for another artist. They could be playing around in the studio. Perhaps they were simply humoring Blue Ivy who is already learning how to mix and master a track. I express my skepticism here because the lyrics are, well, take a look:
G/O Media may get a commission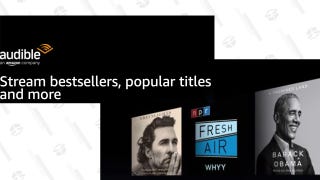 FREE
Audible Premium Plus 3-Month Free Trial
I mean. What the fuck is that?
Far be it from me to doubt Beyoncé—the woman had me out here singing the world "surfboard" over and over—but still. "I'm droning!" Yikes.
The Bey Hivé shared one last clue which I'm guessing is about the themes for the album.
I find this believable if only because it's rather obvious. But, is it too obvious? Also, do Jay Z and Beyoncé play tennis or is that a reference to their trip to Wimbledon to watch Serena play?
A non-Bey Hive clue that a joint album is nigh is Beyoncé's upcoming performance at the MTV Video Music Awards this weekend. Of course it's possible that she's simply doing another performance of "Freedom," (though I can't imagine anything being better than this) or some other song from Lemonade, but we already know Beyoncé loves an onstage surprise.
Additionally, Beyoncé just released new behind the scenes photos from Lemonade on her website and dropped new Lemonade-themed merchandise. The couple also made an appearance together at last night's premiere for Hands of Stone.
Aside from he general dubiousness of the joint album rumors up to this point, it would be bold for Beyoncé to release another album so soon after Lemonade, even if it's not entirely hers.
Does that all add up to anything? I have no idea!

The biggest question in all this—assuming a joint album is actually coming—is how will Jay Z plays this? He was all but invisible on Lemonade, even though much of the album was about or directed towards him, save for a few shots of him groveling at Beyoncé's feet and some old home videos.
Is he going to come out apologetic for his presumed infidelity? Will it be a loud proclamation about the strength of their marriage? Is Jay Z going to try to explain himself? (Dear god please no.)
All I can really offer is: I'll be keeping my Tidal subscription at least until Monday. Can't take any chances.