Following his wife's dazzling new visual album which seems to document his infidelity, Jay Z is reportedly working on an album to tell his side of things. This, if true, is a very poor idea.

The gossip come from Us Weekly and seems unlikely, but let's entertain this idea for a moment.
An insider reveals in the new issue of Us Weeklythat the rap icon, 46, is recording songs that will reveal his version of events surrounding the rough patch in his eight-year marriage to Beyoncé. "Jay is working on an album telling his side of things," explains a source close to the couple.
Alright. Lemonade is largely understood to be a somewhat autobiographical account of Beyoncé learning about her husband's infidelity and then working through her hurt and anger to ultimately forgive him. There are also moments that allude to her father Mathew Knowles who is also a dog for cheating on Queen Tina Knowles.
Aside from the voyeurism of peeking into a marriage that none of us are a part of, does anyone truly care about Jay Z's side of things? Are any of us willing to sit through an entire album of Shawn Carter sharing whatever bruises to his fragile ego led to him stepping out on the mother of his daughter? I'm not sure that explaining why you cheated on one of the most desirable and adored celerities in the world is going to elicit the kind of sympathy he may be hoping for. Jay Z should be happy Beyoncé even let him kiss her feet in that video and keep it moving.
G/O Media may get a commission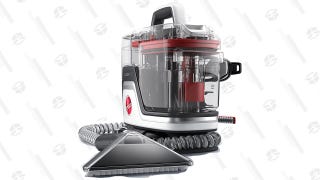 Save $10
Hoover CleanSlate Plus Carpet & Upholstery Cleaner
All of this is compounded by the fact that Jay Z hasn't made an album that's actually, you know, good, since The Black Album. What seems more feasible is that Jay Z is working on a new album where he will probably rap about his wife because she is his wife.
With that all said, I know I would definitely give 12 tracks of Jay Z begging for forgiveness at least one spin on Tidal while he and Beyoncé collect their checks and marvel at how absurdly good they are at marketing.
---
Image via Harry How/Getty.