Something Borrowed made about $13.2 million this weekend. Sounds like a lot of money, but it's much, much less than Thor, which raked in $66 million — and a little bit less than Jumping The Broom, which earned $13.7 million, and played in fewer theaters. Plus, Something Borrowed cost about $35 million to make, so it's got a long way to go before turning a profit. (Jumping The Broom's budget was a mere $6 mil.) What is going on with Kate Hudson's career? Is she coasting along on cuteness?
Something Borrowed was based on a bestselling novel, so you'd think the flick would have a built-in audience. But when we first got our hands on the script for the film, and found that Kate would be playing Darcy, readers who enjoyed the novels were dismayed. One commenter wrote:
I admit to having read the book(s) and Giffin's other ones too. In terms of chick lit, she's pretty good. Not too cliched and a good storyteller.

I will say though that Kate Hudson was a terrible choice for Darcy.
Many, many, many commenters agreed; a similar discussion was sparked on Emily Giffin's page on Facebook. It's true that in the novel, Darcy is a brunette, but that's not the only problem folks have with Kate Hudson. Some people just don't like her. She's becoming connected with mediocre work. Of Kate Hudson's last five films — Nine, Bride Wars, My Best Friend's Girl, Fool's Gold, You, Me and Dupree — not one a real box-office hit. And now one reviewer calls Something Borrowed "committed to the blandness of its characters." People often say that they liked Kate in Almost Famous, but that was eleven years ago. In the immortal words of Janet Jackson: "What have you done for me lately?"
G/O Media may get a commission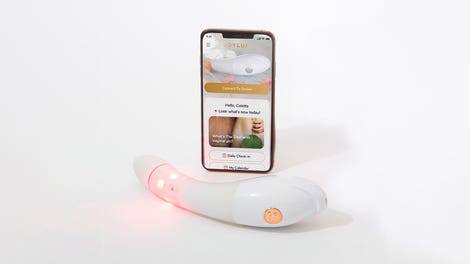 $50 Off
Joylux vFit Gold Device
What's puzzling is why, even though Kate Hudson has a terrible track record in films, she's still considered an "get," an A-list star. She still lands magazine covers, she continues to gaze alluringly at us in makeup ads. Kate, along with Jessicas Biel and Alba, make up some new category of starlet: Actresses turned models turned "personalities." I have seen tons of recent pictures of Jessica Alba, she shows up in Revlon commercials when I'm watching TV, but I can't remember the last time I saw her on the big screen. She is pretty, however — a symmetrical face for magazines and cosmetic brands and fashion lines to use. Kate Hudson is similarly adorable; and since I went to see Jumping The Broom instead of Something Borrowed this weekend (JTB was good!), I also can't recall when I last saw Kate Hudson in a movie. So what do you do with an actress no one likes to watch? And how long can Kate deliver box-office duds before studios stop offering parts?