The horrifying (and preventable) death of Savita Halappanavar, the 31-year-old woman who was denied a life-saving abortion when doctors at Ireland's University Hospital Galway found that she was miscarrying, has prompted lots of outrage over Ireland's restrictive abortion laws. On Wednesday, Irish lawmakers seemed to acknowledge that the country's abortion restrictions need to be eased so that what happened to Savita Halappanavar never happens to another woman in Ireland, so they did what most all lawmakers do when the public is furious with bureaucratic stolidity: the bare minimum.
Salon's Katie McDonough reports that the Irish government on Wednesday released a proposal that would "maintain the current ban on the procedure, but 'clarify' when it is legally permissible to perform an emergency, life-saving abortion." This bill, which you can peruse whenever you want to feel particularly cynical about the state of women's health services even in developed, Western countries like Ireland, is about what people have been expecting since back in December, but the gains are still distressingly modest, especially considering how much outrage surrounded news of Halappanavar's death.
So when would abortions be legally permissible in the the super-Catholic Emerald Isle? Pretty much only in cases like Halappanavar's, and even then, when time should really be of the essence, providing an abortion would be tricky:
Two medical practitioners, have, in accordance with this head, jointly certified in good faith that there is a real and substantial risk of loss of the pregnant woman's life other than by way of self-destruction and in their reasonable opinion this risk can be averted only by that medical procedure.
The bill further makes it clear that abortions will only be performed when there is an "immediate risk of loss of the pregnant woman's life" and when the procedure is thought "immediately necessary." McDonough explains that the bill falls woefully short of providing "vital reproductive care" to a great many women in Ireland, and it also does nothing to change the fact that the country still has one of the most restrictive abortion laws in Europe.
If that, however, is not enough frustrating information for you to process in one day, you can always read through a blood-boiling transcript from the Irish news show Broadsheet during which the pro-life Irish TD (basically a member of the lower house of the Irish Parliament) Peter Matthews demonstrated how few fucks he gives about women's health. When asked by host Vincent Browne whether a woman should be given an abortion if she were facing serious long-term health complications from a pregnancy, Matthews answered sententiously, "But, sure, we're all going to end up dead anyway." How do you even attempt to answer that kind of callousness? Read the transcript to find out.
G/O Media may get a commission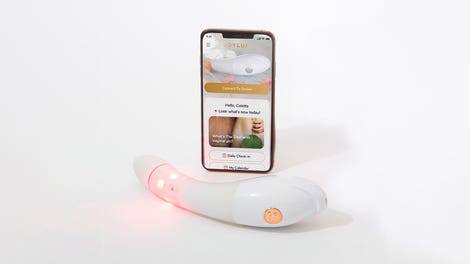 $50 Off
Joylux vFit Gold Device
[Salon]
Image via AP, Shawn Pogatchnik