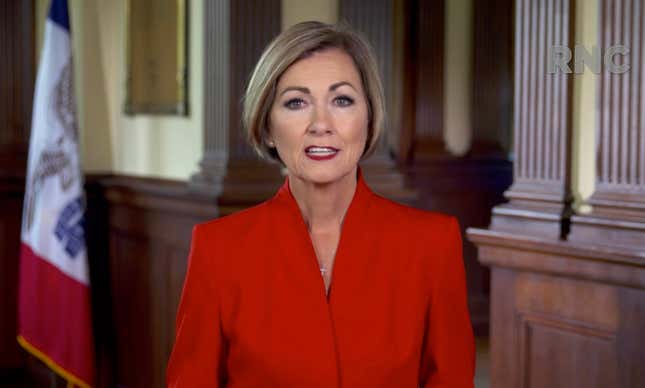 Iowa Gov. Kim Reynolds (R) announced she's convening a special legislative session next week "with the sole purpose of enacting legislation that addresses abortion," per a Wednesday news release. The announcement comes after Iowa's Supreme Court last month permanently blocked the state's six-week abortion ban, which Reynolds originally signed in 2018. The Des Moines Register notes that special sessions in Iowa are "rare"—the most recent one came in 2021 to complete the state's once-a-decade redistricting process.

Alison Leiby Believes Abortion Can Be Funny — Really Funny!
Reynolds claimed in the news release that the state Supreme Court's ruling "disregards the will of Iowa voters," despite the fact that the majority (61 percent) of said Iowa voters actually support abortion rights, according to a March poll.
As the governor notes in her news release, the ruling was handed down despite a 3-3 deadlock among the justices; but as a result of the deadlock, the justices' writings on the case don't hold value as legal precedent. Nor do their writings provide guidance into which abortion laws are and aren't permissible, or even whether the court would rule the same on a new abortion ban passed today.
But what we know for certain is that Reynolds has called the legislature to return nearly three months after this year's session wrapped, because that's how determined she is to make life as hellish as possible for pregnant people in Iowa. This session comes after Iowa Attorney General Brenna Bird (R) in April paused the state sexual assault victim compensation fund's long-time practice of covering emergency contraception and abortions for rape victims.
Iowa Democrats have since criticized the special session as an act of extremism from Reynolds and her party. Senate Minority Leader Pam Jochum accused Republicans of "rushing to take away Iowans' established rights and personal freedoms" and "[hoping] they can do it fast enough that Iowans won't even notice."
In the governor's news release, she wrote, "Not only will I continue to fight against the inhumanity of abortion, but I will also remain committed to supporting women in planning for motherhood, promoting fatherhood and parenting, and continuing policies that encourage strong families." This, of course, is despite how abortion care has been an essential resource for families, and the majority of people who have abortions already have kids. Abortion access is, in fact, a vital tool to "plan for motherhood," "promote fatherhood," and "encourage strong families."
Whatever Reynolds might insist about her stances on the value and dignity of human life and the family unit, her actions speak for her: In May, Reynolds signed a bill dangerously loosening basic child labor protections. In 2020, she was sitting in an SUV that drove into a Black Lives Matter protester, which the protester characterized as an intentional move. It's not exactly surprising that someone with a record like this is so determined to practically upend her state's legislative process to ban abortion.