If you haven't yet seen the news, it's a great day for the gay community and an awful one for homophobes: the Supreme Court of the United Stated legalized gay marriage in all of the land! In honor of the ruling, here are some of the fantastic and touching reactions of Americans on the internet.
Some of these images are funny, some are heartbreaking, and at least one is a straight-up selfie of a woman pouting in approval of equality. Plus there are two dudes who seem so exhausted by the fight that they can't even get too excited about the fact that they're getting married. And that's fair—but time marches on, a rainbow showed up above the White House, and Ben & Jerry's renamed their chocolate chip cookie dough ice cream to "I Dough, I Dough" in support of equality.
How you gonna tell us gay marriage is wrong when actual rainbows and ice cream support it?
#lovewins OH MY GOD. MARRIAGE EQUALITY IM SO EXCITED AHHH#gay #gayisok #gaymarriage#marriageequality #pumped #swag—
G/O Media may get a commission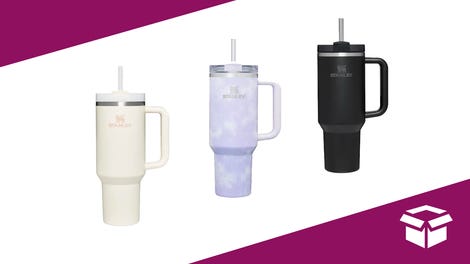 Up to 45% off
Stanley Cup Sale
These ladies have their party hats on and are ready to get hyped up and crunk for marriage equality. Because that's an important thing to get crunk for: human rights.
We celebrate gay marriage here at #RBD!!! @_robinbaron@yudikaufman #gloria #oreo#robinbarondesign #gaymarriage#equalrights
Nothing compliments marriage equality like a plate of pastries, cherries, and a very happy dog. Ain't no better reason to take a break from work than a momentous occasion in human history!
Finally the Supreme Court has legalized gay marriage in all 50 American States! So let's all celebrate with Derek Jacobi and Ian McKellen this amazing breakthrough👏👏! -Lady Sif#gaymarriage#marriageequality#lovewins#ianmckellen#derekjacobi#america#usa#heroes
Yes, but where's Patrick Stewart?
Scene from #SCOTUS. Popped out of work for 10 minutes to celebrate#marriageequality with my people. So much #pride for my #LGBTQ community and the friends and colleagues that made today possible! Can't forget the work left to do though. #gaymarriage #equality
Those are some profesh-looking signs.
Jamie Moore & Tim Scott, together for 10 years. They just got their marriage license & will get married at Cuyahoga Probate Court today. #scotus#gaymarriage #clevelanddotcom
These men are getting married today! Right now! Because it's legal!
Troy and Bob have been together 25 years. #scotus#samesexmarriage #lgbt #marriageequality#gaymarriage
These dudes could not be more excited about the prospect of marriage. If there are only two equality-related instagram videos you watch today, make this one of them.
Finally we are all together ❤️🌈 #samesexmarriage #gaymarriage#congratulations #pride #proud #right#equality #bigthing #equalityforall#legalized #loveislove #lovewins
Pride flag going up! Likely one of many! Make the entire world one giant rainbow! (And then don't watch Fox News' reporting of it.)
SUPREME COURT DECISION • #lovewon #gaymarriage #marriageequality#imgettingmarried #marriage #crying#imsohappy #instagay #instahomo
Too. Many. Emotions. This man is driving and he can't control himself.
My amazing staff & interns celebrating today's #marriageequalityruling at the Supreme Court! #LoveWins#loveislove #scotus
Senator Kirsten Gillibrand and her team celebrate love!
Marriage for all. Love has won. #gay #instagay #selfie #gpoy #me#supremecourt #scotus #ssm #lgbt #lgbtq#gaymarriage #queer #AMERICA#FUCKYEAH
The most glorious facial hair of the equality movement.
So fucking beautiful! #gay#gaymarriage #washingtonDC #us #usa#supremecourt #traveling #FlightAttendant#FlightAttendantlife #historic#humanrightscampaign #hrc #scotus#beautiful
Caption: "so fucking beautiful." Agree.
marry me? cuz we can if you were gay!! woooo, finally #str8allies#gaymarriage #scotus
A huge day for both the gay community and their allies, like the two best friends above who would totally get married if they were both gay.
Ruth Bader Ginsburg / The Notorious RBG meets Lisa Frank. My way of celebrating today's win!#ruthbaderginsburg #scotus#marriageequality #gaymarriage#gayunicorns #rainbows #lisafrank
Legit.
Contact the author at mark.shrayber@jezebel.com.

Lead image via Shutterstock