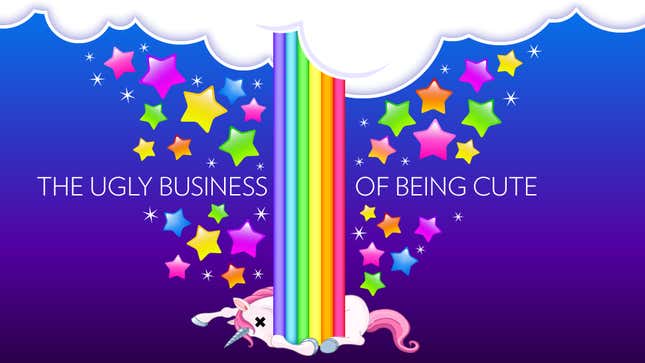 To her fans, Lisa Frank is almost as mythical a figure as her beloved unicorn. For women in their twenties, thirties, and forties, Frank's name alone conjures up a specter of koala bears clinging to rainbow-flavored ice-cream cones, neon tiger cubs frolicking with surfing penguins, and, of course, majestic unicorns prancing before a swirl of hearts and stars. But the company is now a shadow of what it once was, and its fall from grace—a story of scandal, greed, and abuse—is in stark contrast to its shiny, happy aesthetic.
It's unclear whether Lisa Frank—the real woman and artist who founded the school-supplies brand in 1979—was fully aware of the whispers that had been circulating for years around her company's headquarters in Tucson, AZ. It's possible that she had no idea what people were saying about her husband, Lisa Frank Inc. CEO James Green. Rumor had it that Green was an unfaithful monster with a cocaine problem; employees feared he would destroy the company.
As it turns out, those fears were not unfounded. According to court documents and first-hand accounts from former employees speaking exclusively to Jezebel, the personal drama of Frank's marriage quickly turned into professional disaster.
The Woman Behind the Girlie
Frank hails from tony Bloomfield Hills, a city just north of Detroit that is routinely ranked in the top five wealthiest cities in America with a population under 10,000. Her father was in the automotive industry, running Detroit Aluminum & Brass, a publicly-traded family company founded by her grandfather and his brothers in 1925. D.A.B. manufactured automatic transmission components, clutches, et cetera—to put their early success into perspective, D.A.B. was the only company in the United States to make the engine bearings for tanks used in WWII.
Frank's life was, by all accounts, a happy and comfortable one—the kind, perhaps, that would compel a person to illustrate cheerleader bears and ponies with gorgeous eyelashes. Frank told Urban Outfitters' blog that her parents actively encouraged her interests, which were artistic and feminine:
"My dad was an art collector, my mom had a little kiln in our basement and we would make pottery. I think from about age five on, they sent me to art classes, and I was a huge colorer. HUGE. I think to keep me quiet, they would bring the coloring books and crayons, and I would fill up the books.
I was totally a girly girl. I was not a jock. When I was 12, my parents got me a loom, so I was a weaver. I loved to read, I loved to do artwork, I loved to do anything girly."
She attended the same elite prep school as Mitt and Ann Romney, where she began painting. At an art show her senior year, she managed to earn $3,000 (in the early '70s, no less) selling her work. One of her buyers was Lee Iacocca, former CEO of Chrysler.
Frank's entrepreneurial instinct first kicked in during her time at the University of Arizona, where she would purchase handmade pottery and jewelry from local Native American communities and sell them at a markup back home in Michigan. Frank did so well that she eventually started directing the artists on what kind of jewelry to make.
"If I said 'Make a teddy bear or a unicorn,' that was what sold," she told UO.
Recognizing her own knack for commercial sense, she began creating her own original designs. By the time she was 20, she'd created a plastic jewelry line called Sticky Fingers that got picked up by Neiman Marcus and Bloomingdale's. The collection inspired her to design stickers and buttons, too.
"I got the rights for Betty Boop and Popeye and Mighty Mouse from King Features, and I would put, like, Betty Boop on a unicorn," she told The Daily of her first wholesale business.
In 1979, she renamed the company and Lisa Frank, Inc. was born. That same year she received her first million-dollar order from Spencer Gifts. She was 25 years old.
Thirty-five years and one mega-brand later, there are only two photos of Lisa Frank floating around the Internet. In 2012, she agreed to be filmed for a rare interview to promote a short-lived partnership with Urban Outfitters, but asked that her face not be shown.
"In my own little way, I understood Michael Jackson," Frank said in a 2012 interview with The Daily, intimating that her own level of fame is in some way comparable to that of the late King of Pop and has thus affected how she interacts with the public.
"If I use my credit card…and they go 'Oh my gosh, there's Lisa Frank who makes the stickers!' I go, 'Isn't that the craziest thing that I have the same name?'"
That she believes she can comprehend or relate to what life was like for the most famous entertainer of all time—who was notoriously viewed as a victim of his own celebrity—is confounding. But it also provides an illuminating peek into the mogul's mindset.
Ask Frank's former employees about her, however, and her psychology or personality is not usually the first thing they mention. Most, when speaking to Jezebel, went straight to her "super thin" appearance.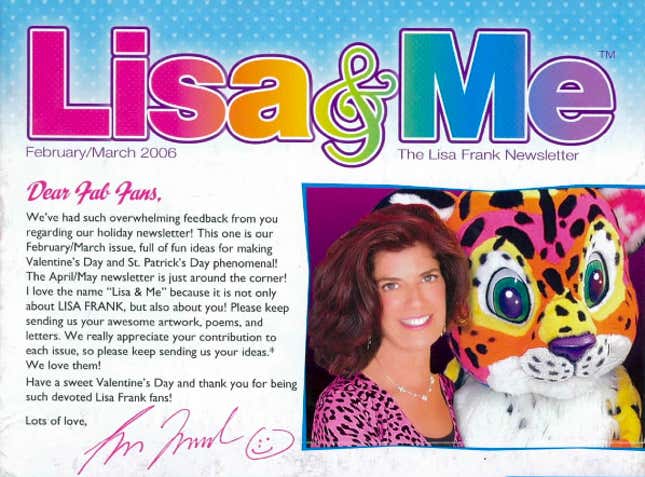 "She was very beauty-focused," according to Karen*, who worked in the sales department at LFI in the early 2000s. She said Frank was "obsessed with her body image" and her waning youth, which Karen believes is what contributes to Frank's reclusive nature.
"Well, she's getting older now. She kept getting—I don't know if it was plastic surgery—but she kept getting these lotions, talking about youth…Have you met her? She's like two pounds," she said, adding, "[She] just doesn't want to eat because she doesn't want to look fat or ugly or whatever she thinks."
Kyle, who worked in the creative department for two years right around the time of Frank and Green's divorce, described Frank as, "a very passionate lady, although a little manic and not always all there."
"She kind of looks like one of her characters," he added. "Very over-the-top and very colorful [with] big hair and really big eyes."
Frank admits that she infuses aspects of her own personality into the characters she creates, but she says Purrscilla—an ostensibly wealthy, fluffy, white kitten—is most like her (even though Frank confesses she's "not a cat fan"). She explained the similarities in a 2012 interview with Urban Outfitters' blog:
"[Purrscilla] is very into glam and glitz and jewelry and everything very girly. And some of the jewelry in the illustration is even my own jewelry…[S]he is a really glamorous kitty."
In case you were wondering, Purrscilla's jewelry consists of matching diamond tennis bracelets, a bejeweled tiara, a heart-shaped box packed with various gemstones and ribbons, and a pimp chalice overflowing with butterfly brooches and strands of pearls.
Dancing Dolphins, Ballerina Bunnies, and Sinking Sales
Lisa Frank's line of products—folders, pencil cases, erasers, Trapper Keepers, and notebooks—were so popular that the company was raking in over $60 million a year in sales during its peak in the late '90s. According to court documents, shareholder distributions to Lisa Frank and James Green totaled more than $100 million between 1995 and 2005 alone.
But the halcyon days of dayglo pandas and the stationery gravy train are seemingly over. The company only earned an estimated $2.3 million in annual revenue recently, according to Dun & Bradstreet. Its retail stores have all shuttered. Its products, which once dominated the back-to-school aisles in stores across the country, are tough to find today with drastically limited availability. The number of corporate employees dwindled from 350 to just six, according to a June 2013 article in the Arizona Daily Star that Jackie Gambrell, Frank's Executive Assistant, referred to as "unkind and untrue."
(When asked what was untrue in the Daily Star piece, Gambrell answered, "I'm not giving you an interview." She said she was "waiting for our PR girls" before she would answer any of Jezebel's questions. When pressed on the time frame for that she admitted, "We have have to hire a PR firm," but said it would happen, "sometime this week." That was almost five months ago.)
The small staff of LFI still reports to Lisa Frank HQ: a 320,000 square-foot building in Tucson, infamous in the area for its decor, featuring giant, multicolored music notes, hearts and stars and oversized, fiberglass character statues. Near the building's entrance, a large silver unicorn sculpture is missing its horn. The building and land are listed for lease or sale at a reduced price of $13.25 million. According to Tim Healy, the listing agent at the time, LFI was "still operating inside the facility but not at full capacity."
So what happened? Is this simply the inevitable outcome for a stationery company in a paperless world? Is what's left just a rotting corpse of a fad that died over a decade ago? No, alleged former employees, who pointed to the company's opportunity to capitalize on '90s nostalgia.
"They could have caught on with the hipster market, but in order for a company to really turn a corner in those kind of things, they need compassionate leadership and people who appreciate and can nurture talent," said Jacob, who served as an illustrator for the company for four years. "They didn't have either of those."
"It was the silliest set-up I've ever seen," he added. "Of course, from the outside it's colorful—you've got the rainbow, the stars, the hearts on the building, the statue of the panda—but inside was like an abusive alcoholic home."
"I don't think [Frank and Green] have a lot of business acumen," said Karen. "I don't think they ever did. I think Lisa's parents [funded the start of] her company. She's an artist, not a business person."
In fact, every one of the former employees of Lisa Frank, Inc. who were interviewed for this story all said the same thing: the current state of affairs is unsurprising to them and was a long time coming, thanks to chronic mismanagement from both Frank and Green.
The problem wasn't business—it was personal.
Inside the Rainbow Gulag
"Lisa Frank is notorious in Tucson as the world's shittiest employer," said Caroline, who considered applying for one of the many job openings at the company she saw advertised when she moved to Tucson in 2001, but decided against it after speaking with locals. "Every single person I talked to advised me to avoid Lisa Frank at all costs," she said. "I didn't know a single person who had not heard horror stories about the work environment there."
Even court documents reflect those sentiments, with one longtime employee, Dan Mullen, stating how lowly regarded the company was in the community.
"The word in Tucson is that 'you don't want to work for the Lisa Frank Company,'" he said.
"I don't know if it's possible to really communicate how bad their reputation was in town," Caroline stressed, before adding, "Every person who ever worked there seemed to have a case of PTSD from it. 'Rainbow Gulag' is really an apt description."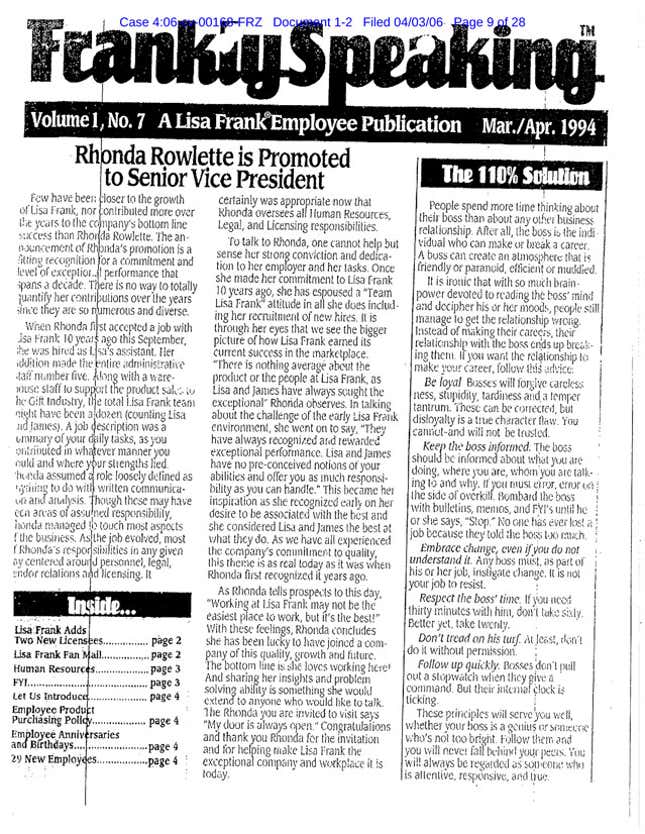 While there was an emphasis on productivity, the rules that were implemented seemed counterproductive to a creative environment. According to former employees, the office was a place of silence and co-workers were not allowed to speak to one another. The management secretly (and illegally) recorded phone calls. An interoffice, bimonthly publication called "Frankly Speaking" [left] informed employees how they were to behave, particularly regarding how they were expected to interact with their boss, CEO James Green. Memos were frequently circulated with new, increasingly restrictive company policies. No visitors, including family members, were allowed. The penalty for any violations ranged from verbal abuse to name-calling to screaming to automatic termination to even more bizarre restrictions.
(One time, after discovering that someone left the office 10 minutes early, an enraged Green instructed the warehouse manager to put chains and padlocks on all the downstairs doors so that "the staff can't escape.")
"There was just this air of fear there," said Marcia, a onetime graphic designer for LFI who remembered the office as being cold, both figuratively and literally. "It just seemed very clear, the mentality of it: keep it ice cold, keep people miserable and on edge. It was just insane—totally insane."
And if working there was difficult, so was leaving. The company allegedly often failed to give promised severance packages, fought unemployment benefits, and former employees had to sue for their final paychecks or sales commissions as evidenced by public records of numerous civil judgments entered against LFI.
In addition to the bad publicity stemming from a series of lawsuits from local contractors and builders who claimed hadn't been paid for $4 million worth of work on the corporate headquarters, LFI's image problem stemmed from the company's unusually high turnover rate, with numerous former employees available to poison the well with first-hand accounts of just how unpleasant it was to work there, and others corroborating those stories.
"It was a revolving door," Jacob said of the company's turnover. In the four years that he was employed in the 40-person creative department, he estimates that group "may have changed over at least two to three times…It was just unbelievable. One year, almost a third of the entire staff turned over."
According to Susan Russo, who worked as the Sales and Marketing Manager, "over 80 people walked out the door," between February 2003 and December 2004, "most without notice because they had been treated so poorly."
Even an otherwise positive 2004 Arizona Daily Star article about the company's 25th anniversary couldn't help but point out how seemingly odd it was that, after a series of massive layoffs in which the company slimmed down from 400 employees to just 100, LFI still couldn't retain its staff.
Advertisements for jobs at the company appear frequently in newspaper classified ads. But Frank said turnover is on par with other businesses of similar size…

"We're always on the lookout for new talent to join our team."
The turnover issue was due in part to random, flared-temper firings, according to sources who worked at the company. But many people quit because they couldn't handle the oppressive atmosphere, like Justin, who worked as an illustrator in the early 2000s.
"I couldn't stay there any longer than seven months," he said. "It seemed really just needlessly abusive."
One member of a parenting message board recounted her experience as a Lisa Frank employee:
I personally heard [Lisa Frank] scream at sales managers and threaten their lives if they fucked up a presentation.
Another former employee posted a comment on a forum for freelance artists:
Every day was so stress full [sic] and hearing Lisa's voice downstairs on a speaker phone made my blood run cold. I had many instances where she abused me verbally.
"It was like the worst place I'd ever worked," said Karen, "Which is kind of ironic, given that they have rainbows and unicorns everywhere."
Frank at least acknowledged as much. A few years after getting fired from the company for talking on the phone with her father (she later sued for wrongful termination) Karen ran into Frank at a salon.
"I said, 'Oh, Lisa, remember me? I worked for you.' And she said, 'Oh, did we fire you?' And I was like, 'Yeah.' And she was like, 'Oh, I'm sorry. I wasn't really a great employer.'"
Mean and Green
When asked what the root of the problem was at LFI, former employees—some of whom spoke directly to Jezebel, while others are on record in court documents—all had the same answer: LFI CEO James Green.
Green began working at LFI in 1982 as the company's first in-house illustrator and designer. Shortly after beginning a romantic relationship with Frank—"sometime in late 1983 or early 1984"—Green began to move up the corporate ladder. He became an officer of the business in 1988 and was named president and CEO in December 1992.
Green and Frank married on October 22, 1994 in what was described as "an extravagant affair." Their first child was born the following July, when Frank was 41.
"They seemed like very opulent people for Tucson," Marcia said of Frank and Green, who drove "flashy cars," had their own 12-seat, twin-engine airplane, and a mansion characterized by one Tucson resident who spoke to Jezebel as a "nouveau riche monstrosity of a house." (Frank has described her house as "purple and yellow and hot pink and light green and orange.")
It was then, at the height of her products' popularity, that Frank "relinquished day-to-day management duties to Green" in order to focus on raising her children. Shortly after each of her sons were born, Frank—who had once been the sole shareholder in her company—made gifts of her stock to Green in what would amount to 49% of the shareholdings in LFI.
"She wasn't that interested in being a businesswoman," said Karen. "She wanted to just enjoy her life."
Once she had her children—Hunter and Forrest, who were named after two characters in Lisa Frank's multi-chromatic menagerie (a leopard cub and a tiger cub, respectively)—Frank worked from home and rarely participated physically in the office.
"Maybe like once a month, Lisa would come in, kind of poke her [head] around and just see what everybody was up to," said Kyle, who worked as an illustrator in the mid-2000s.
For the next 10 years, Green ran the show.
"[He] really turned that place into a shit hole," said Justin, who added, "The guy's kind of dick."
It seems to be a sentiment shared by others who've been in Green's employ. In 2005, 16 people who had worked for or with LFI in various capacities submitted sworn affidavits in a lawsuit brought against Green, attesting to his management style. Allegedly prone to fits of rage and loud, profanity-laden outbursts in which he would publicly berate people—including his then-wife Frank—Green was described as "abusive, arrogant and extremely difficult to work with." Several former employees witnessed Green throwing chairs and other objects in the office.
Betty Hack, who worked as the General Sales Manager in Hong Kong in 2005, stated:
James' management style is abrasive and he often leads by intimidation. he is often abusive to some of his employees by his language and actions. He will never take someone to the side if he has an issue with them, instead he will scream and curse and belittle them in front of everyone. Whenever he hasn't liked someone or they have crossed him in some way, he makes their work life miserable by his constant abusive comments and harassment.
Justin recounted a particularly cruel facet to Green's personality: he wouldn't bother to learn employee's names so he would give them nicknames of his own invention.
"I had a friend there and she was not the most attractive girl…she was sort of portly. [Green] used to refer to her as 'That Guy.'"
Several people who had worked for or with the company over the years repeatedly remarked on the "oppressive management style" that contributed to a "hostile" corporate culture of "intimidation and insecurity," according to court documents.
"He was a very angry man…a pompous jerk," said Karen, echoing a sentiment expressed by many former LFI staffers who spoke to Jezebel. "He was very yell-y and mean."
A relatively short man who "reeked of cologne," Kyle surmised that Green has a Napoleon complex.
According to another former employee:
People who worked directly with James couldn't wear heels. He said it was because they couldn't walk fast enough to keep up with him. In reality, he has short man syndrome and didn't like working with women taller than him.
The staff's feelings for the company's vice president, Rhonda Rowlette—who had been with the company since 1984 and was effectively Green's Girl Friday—weren't any warmer.
"[James] was a tool," said Jacob. "And Rhonda was his hammer."
Or as Kyle put it, she was the Darth Vader to Green's Emperor.
Dan Mullen, who had worked in the art department at LFI for 14 years stated in court documents:
Rhonda Rowlette is the enforcer. James uses her to maintain control of the employees. Through Rhonda employees' jobs are threatened and an atmosphere of hostility is maintained. Employees are consistently called to her office and subjected to threats and harassment.
But even Rowlette was the target of Green's abuse, according to court documents, which only baffled employees.
[M]any have wondered why she has taken it for so long. He sometimes has been heard screaming at her…calling her fat or stupid or belittling her.
Many former employees interviewed for this story believed the aggression, hostility, and paranoia—"the earmarks of addiction," as Jacob put it—exhibited by the company's leadership stemmed from drug use.
"James and Rhonda were pretty big into coke," said Kyle. "There would be days when James would come down [to the art department] super sweaty and super paranoid and just like walking really fast back and forth through the design area. And there was nothing to be stressed about, it was just a regular day."
Kyle's coworkers whispered that the drug use had been going on for years.
"We saw Rhonda come to work from time to time just totally fucked up," said Justin. He remembered one morning when she "couldn't even stand up straight."
The comments section of a 2009 nostalgia-based blog post about Lisa Frank products devolved, over the next three years, into a sort of refuge/support group for people who had once worked for the company, many of whom made repeated mentions of cocaine use by the higher-ups.
Another former employee shared the following anecdote on a parenting forum about a coworker at LFI:
She told me that James regularly sent her with an unmarked box or a paper bag to meet someone at a gas station or parking lot. She was supposed to exchange her package for theirs and not look inside. (There were a lot of rumors and a couple of incidents about their cocaine use, so we can guess what was inside.) He also had her buy his Viagra and his porn.
And while Frank, who worked from home, was not present in the office for her own behavior to be observed, employees had their suspicions about her, too.
"I think Lisa Frank was into a little bit of coke or something as well," Kyle said. The reason he thinks that? In the archive room, where all the original artwork ever created for the line is stored, there was rumored to be an infamous letter on the back of one of the pieces.
"It's from Lisa Frank's friend [written] to Lisa Frank [about] how much fun she had freebasing with Lisa and whoring around New York," said Kyle.
Justin remembers the letter, too.
"I think we all Xeroxed that," he laughed.
But it would seem—at the office at least, and with Frank home tending to her boys—that the party had been whittled down to just Green and Rowlette.
According to former employees who spoke to Jezebel, it was accepted by much of the staff that Rowlette and Green were not-so-secret lovers.
"When I [started working] there, people were telling me that [Rhonda] and James had this thing going on behind closed doors," said Kyle.
"She was screwing him!" according to one former employee commiserating with past coworkers online. Another referred to Rowlette as Green's "fuck buddy."
Kobi Miller worked as a product development artist at LFI for over 10 years when he submitted a sworn affidavit remarking on his suspicions about Green and Rowlette's relationship.
[M]y wife and I were shopping at Tucson Mall over 4th of July weekend 2005 and stopped by the Lisa Frank retail store in the mall…we were surprised to see James and Rhonda together in the store on that 3 day weekend. [W]e had a short conversation with James (Rhonda didn't say much). After we left them we both thought it strange that they would be together and that Rhonda acted sort of caught off guard at seeing us and acted uncomfortable. We wondered why James wasn't with his family and Rhonda wasn't with her husband on a holiday weekend. Something wasn't right…
At some point, Frank picked up on the alleged peculiarity. In September 2005, she filed for divorce. According to the court documents, Frank noted that "the precise date being unknown…Green and Rowlette formed a close personal bond and secret partnership."
You Mess With the Unicorn, You Get the Horn
"It wasn't a surprise," Karen said of the breakup of Frank and Green's marriage. "They had a tumultuous relationship, it was no secret."
Frank had confided in her friend Roy Hayes, Jr. that she was "frightened" of Green and had been a victim of his verbal abuse for years. She was looking for a way out.
According to Karen, years before Frank filed for divorce, she would test the waters by regularly asking the staff, "If James and I divorced, would you stay with the company?"
Green moved out of the family home in June 2005 and Frank spent the rest of the summer "getting more involved in the day-to-day activities [of the company]," according to Kyle.
Frank undoubtedly knew that ending her partnership—both in life and in business—with Green would be a contentious, litigious mess. She began increasing her presence in the office, according to legal documents, and taking a more active role.
"[I] would get [art] direction from her and then James would come down and be like, 'That's bullshit! I run this fucking company and you've got to do it [my] way," Kyle said.
Sensing that his wife was angling to oust him, Green seemingly began a campaign of his own, enlisting Rowlette's help, according to court records.
"James and Rhonda put pressure on people [to] pick a side: either you pick Lisa or you pick James," said Kyle. "James was telling people if the company splits up he's going to start his own company. He was trying to recruit people to go with him so that way, if Lisa did get the company, she wouldn't have anybody to help her."
For her part, Frank had virtual spies. Green claimed that Frank hired an outside IT consultant to provide her with direct access to all company emails, which she used to monitor their communications, and delete and redirect emails, which he said created a "siege-like atmosphere."
Gearing up for a war to regain control of her company, a siege was probably her aim. One has to wonder, though, what Frank was searching for with her access to employees' email accounts. And it's odd that something like that would anger Green, a man who—according to former employees who spoke to Jezebel—didn't have even the most basic human decency with regards to respecting those who worked for him. Besides, as Betty Hack said:
[It] is a known fact throughout the company that James has had this very same access for years and has [been] doing this behavior all along.

I was also told by several IT managers over the past years that…phones and offices were also sometimes bugged at the request of James.
Why would he care if his wife were meddling in emails sent on the company's servers if he'd been doing it all along himself? He admitted to as much after he was ordered by a judge to return six computers he'd allegedly stolen from the office shortly after Frank filed for divorce, saying the machines "contain personal correspondence" that he wanted protected.
One month after filing a civil suit (to force Green to attend the annual two-person shareholders meeting so she could elect a new board of directors) and an application for a temporary restraining order against Green (to keep him away from the business and stop him from "harassing employees, blocking purchase orders" and removing assets from the company)—Frank won the first battle in what would be a long, drawn-out, dirty war. She arrived at the company's headquarters with the police, who escorted Green, Rowlette, and Rowlette's secretary from building.
Lisa Frank was once again CEO of Lisa Frank, Inc.
The Trials of Lisa Frank
In the years following the breakup, instead of forging ahead with the company's plans to expand with a Fantastic World of Lisa Frank theme park, a clothing line, and TV shows (the company always considered itself competition for Disney), Lisa Frank spent the latter half of the 2000s mired in litigation, mostly with Green and Rowlette.
On top of all of that, Frank and Green have spent the better part of eight years duking it out over everything and anything, such as divvying up personal possessions like furniture and family photographs. As recently as January 2013 they were still bickering within the legal system. According to court documents, they can't even come to agreements on their children's vacations or schedules without the regular intervention of their lawyers.
And while, in the fight to regain control of her company, Frank had charged that Green had "presided over a drastic reduction in corporate sales and profits" (one former employee said Green lacked "focus and direction" and cared more about the font used in presentations than the content), and created a "contentious working environment," she hasn't fared much better at its helm. She severely reduced her staff and entered into an exclusive licensing agreement in 2010 with a Delaware-based company, CSS Industries, which would manufacture and sell her line of products.
"I know they must be hurting because when I was working there there would be no way in hell she'd ever consider licensing," said Kyle. "Because she wanted total control."
However, the relationship with CSS Industries quickly soured and Frank filed a suit against the company in 2012 for failing to earn her the $2.8 million in royalties it had promised.
The End of the Rainbow
Last year there seemed to be a light at the end of the tunnel in the form of the nostalgia market. Lisa Frank, Inc. had entered into a relationship with Urban Outfitters to sell T-shirts she designed exclusively for the retailer using some of her classic illustrations. In addition, they sold her excess stock of "vintage" stationery pieces. Despite the partnership being an apparent success—everything sold out quickly—the company has seemingly ended its apparel deal with Lisa Frank, Inc., although it recently began to sell various holiday items, like Christmas ornaments and calendars. Urban Outfitters has not responded to several requests for comment.
"They lose relationships with people because they aren't friendly," said Karen of the company's inability to maintain business.
Considering how trends are cyclical, it's a shame that Frank's empire couldn't capitalize on the resurgence of the aesthetic she created. But it's not stopping other companies from doing so.
As for Green, he found Jesus.
Previously Jewish, he has evidently converted to Christianity and sells religious-based stationery and T-shirt designs on his website JamesChristianMan.com, where he also shares his poetry, photography, and sculptures (one is a giant sand castle-type creation of a crucifix).
"James did not seem like he gave a fuck about God or anything like that," laughed Justin. "There was that South Park episode with Faith +1 where Cartman started a Christian boy band just to take advantage of people. That's kind of what [Green's new business] feels like."
Green founded his business Salvation, LLC a few months after leaving Lisa Frank, Inc. Rhonda Rowlette is his Vice President. Although he's yet to experience the kind of commercial success the Lisa Frank brand has enjoyed, it's not for a lack of trying. Salvation, LLC has registered a couple dozen trademarks on designs and slogans.
One of them, aptly, is "Blame James."
* Some names of former LFI employees have been changed to protect their anonymity.
Image by Jim Cooke.