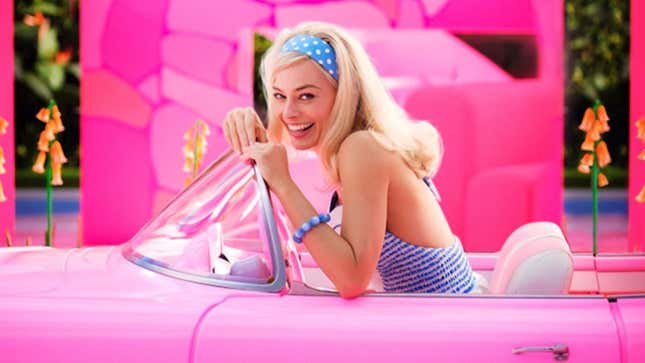 At any given moment, on any given, my brain is cycling through about a dozen thoughts, feelings, observances, ideas, opinions, song lyrics, and embarrassing moments from when I was 12, 19, 23, 26, 27, 28, etc. Sometimes it's fun, but more often it makes me feel like my mind is nothing more than a giant dumpster and that I'm wasting 75 percent of my brain power filtering out a bunch of useless, random shit.
Luke Macfarlane Talks Starring In Historical Gay Rom-Com 'Bros'
Frankly, introspection is exhausting, and I'm tired. So after listening to the podcast Greta Gerwig sent Margot Robbie—about a woman who doesn't introspect at all, which she sent Robbie in order to help her get into the character of Barbie—I've decided that this summer, I will consider my own inner life no more.

Robbie recently told Vogue that, typically, she uses "animal work" to get into a character (Tonya Harding was a pit bull and mustang; Nellie, from Babylon, was an octopus and honey badger). She tried to think about Barbie as a flamingo, but that didn't work. "I was like, 'Greta, I need to go on this whole character journey,'" Robbie told Vogue. "And Greta was like, 'Oh, I have a really good podcast for you.'" The podcast was an episode of This American Life from February 2021.
"You know how you have a voice in your head all the time?" Robbie said. "This woman, she doesn't have that voice in her head."
I'm headed to the beach this weekend and cannot fucking imagine being able to sit on the beach and just...sit there. Without thinking about if I should go for a walk or a swim, or what I'm doing tonight, or what I was doing in June of 2015, or whether or not the deepest spot of the ocean is home to a sea monster that's so enormous we can't even conceive of its size, or how prisoners used to be served lobsters, or how I've never read Moby Dick, or about the time in 7th grade where the boy I had a crush on made fun of the purple underwear sticking out of the top of my pants, or how I should probably buy a new bathing suit. (If you're a doctor and are like, "You have undiagnosed ADHD," by all means, hit me up.)
Perhaps Barbie is not vapid in a bad way and just knows how to exist peacefully!
"She said, I don't introspect hardly ever, hardly at all— meaning she spends almost no time looking inward," Lilly Sullivan, a producer at This American Life, said of her colleague, Diane, on the podcast. "She doesn't really think about herself, her thoughts, her feelings about the world almost ever." Sullivan also makes clear that "Diane is no dummy," is "incredibly focused," and has a PhD in inorganic chemistry from Stanford. OK Diane! Show me the way.
Diane says that she tried to introspect while going to the grocery store but couldn't figure out what someone would think about, besides, "There's some red shopping baskets! I'm going to take a red shopping basket." She likened her brain to a video camera that's just pointed at various things in the world ("Most of it doesn't stay very long and goes right back out"). She never spends time "feeling just mildly guilty or mildly regretful" about anything she's said, and, when it comes to opinions, "I don't think I have that many opinions," she says. "Or if I do, they're not strongly held."

Diane also added that she didn't realize thinking about one's own thoughts and feelings was even a thing until she was 24, was reading about a girl who almost died of flesh-eating bacteria, and was suddenly faced with her own mortality as well as the fact that her parents were going to die someday. "It all just came rushing out," she said.
As a millennial, I realize dissociation is nothing new and that Gen Z has already turned ignorant bliss into a trend. It's why the term "bimbo" has reemerged in an endearing way; why Love Island goes viral; why TikTok is so popular. "It takes privilege to be able to tap out on social issues, but at the same time, our brains were not meant to process global suffering on the scale that the internet exposes us to," Internet culture expert Kelsey Weekman told Jezebel's Emily Leibert in October. "Gen Z has been raised with that kind of information accessible to them since they could hold a phone, and it's exhausting." As Leibert wrote:
Much of Love Island's popularity, however, isn't about yearning so much as it is about the fantasy of mindlessness: the freedom to recline in a pool floaty as you dive into the deep end of vapidness without a thought. Consuming news, debating politics, or theorizing about the state of feminism are all off-limits. The little information the Islanders do receive is constrained to a world the size of a luxury villa in Mallorca—one marked by the simple things, like eternal sunburns and lovers unfit to stand the test of anything beyond a lap dance contest.
Essentially, Diane is every Gen Z'ers dream. I don't want to not know what's going in the world—I just don't want to be thinking about how I think and feel about my thoughts about it every damn second.
"I think before we started talking about all of this, I thought it was bad," Diane told Sullivan about her lack of introspection. "I thought there was too much space in my head that was going to waste or something. But now that we've been talking about it, it is nice to have room. I feel like it lets me— I feel generally sensitive to the world around me and to other people. And I think it's actually kind of nice that there is room to let the world in."

Sounds lovely. If you spot me on the beach this weekend—or anywhere this summer—intensely focusing off into the distance, know that I'm trying my fucking hardest to empty my brain of its infinite banalities to try and morph it into a video camera that is simply observing the ocean. No Thoughts, Just Vibes Summer 2023!!! LFG!