Devyani Khobragade is making (has already made?) a break for it.
The Indian deputy consul general in New York has reportedly left the United States today, according to CNN, and she was also granted diplomatic immunity.
Khobragade was arrested last year for falsifying documents to gain a work visa for her housekeeper/babysitter. Prosecutors allege that she also under-paid that housekeeper/babysitter, giving her just $3.31 per hour.
Khobragade's arrest caused an international uproar after she claimed she endured a suspect strip search while in custody. The Indian government reacted swiftly by removing concrete blocks around their country's US Embassy and upgrading Khobragade's position to give her a shot at diplomatic immunity. She was initially the deputy consul general for political, economic, commercial and women's affairs at the Indian Consulate General.
G/O Media may get a commission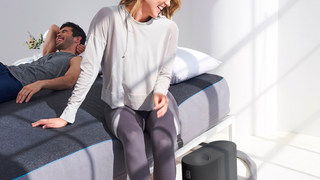 Eight Sleep Pod Cover
Some human rights activists say the Indian government is missing the real point, that how Khobragade treated her housekeeper is unacceptable and an international problem. The US government says that it has no plans on dropping the charges against her.
But right now, it looks like Khobragade's gone, baby, gone.
Photo Credit: AP Images