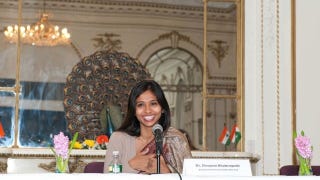 Indian officials transferred a diplomat facing charges she underpaid a housekeeper in the United States, which could protect her from the allegations.
On Saturday, Indian officials announced Devyani Khobragade, 39, had been moved to a job with India's United Nations delegation:
A position with the United Nations would afford Ms. Khobragade more diplomatic protection from prosecution in the United States, although it was unclear whether the State Department would approve her transfer.
The decision to move Ms. Khobragade to the United Nations post came after American officials vigorously defended their handling of the matter amid criticism from Indian politicians and in its news media. Preet Bharara, the United States attorney for the Southern District of New York, said Wednesday that Ms. Khobragade "clearly tried to evade U.S. law designed to protect from exploitation the domestic employees of diplomats and consular officers."
Khobragade was arrested after she was accused of submitting falsified documents in order to obtain a work visa for her housekeeper/babysitter. Prosecutors allege Khobragade, a women's affair's diplomat, paid her housekeeper $3.31 per hour, well below minimum wage.
Khobragade's arrest sparked outrage in the international community following a dubious strip search.
Khobragade's new position will likely give her protection from the charges. "We have welcomed her into our team here at the U.N.," Indian ambassador to the United Nations Asoke Mukerji told the New York Times. "As soon as she is accredited, we hope she will be able to discharge her responsibilities."
Image via Facebook