In July 2017, Sarah Huckabee Sanders replaced the perennially flustered Sean Spicer to become the second White House press secretary under Donald Trump. The appointment made her the third woman to occupy that position, some 10 years after Dana Perino served under George W. Bush. Though expected, her promotion was strategic, too. Spicer's time at the podium was fraught with disaster and his incompetence paved the way for Sanders to step into a role she is uniquely suited to play.

As a no-nonsense Southern woman with Trump Country credentials, Sanders offers a blunt presence at the increasingly scarce spectacle of the White House press briefing. She moves through them at a rapid clip, parroting half-truths and outright lies; her loyalty unwavering. A devout evangelical Christian, a white woman, and a dedicated mother of three, she is the personification of the values espoused by the Trump White House. As the public face of the administration, she wields its most powerful weapon: white motherhood.

White motherhood, combined with the traditional family structure, is central to the administration's self-image, but First Lady Melania Trump, the president's third wife, a Slovenian former model 24 years his junior, is not the right look for its racially-charged Americana vision. (And after all, as the first lady so clearly announced, she doesn't really care.) 
Motherhood from the Trump perspective is necessarily nostalgic and white: wholesome, apple-cheeked, and made in the U.S.A. In a pinch, Melania works, standing grimly beside her husband for photo ops or greeting international leaders at state dinners. But their performance of marriage is strained and thin—it is not the robust institution Trump needs to support his message. It's better embodied by Sanders, a girl from Hope.
As the public face of the administration's moral compass, Sanders sets herself up to be viewed through a very specific lens. At her first official press briefing in July of last year, Sanders read aloud from a letter written by a 9-year-old boy nicknamed Pickle. The missive was adulatory in the way small children can be, brimming with praise for Trump, whom Pickle referred to as his "favorit [sic] President." "I like you so much I had a birthday about you," the letter continued. "My cake was the shap [sic] of your hat."
G/O Media may get a commission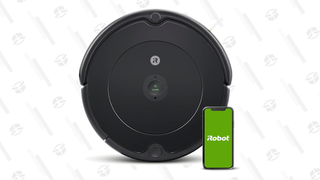 35% Off Black Friday Deal
iRobot Roomba 694 Robot Vacuum
What was meant to be the start of a treacly tradition of letters to the president, perhaps as an attempt to position Trump as a father figure, was met with disbelief. It's easy to write this off as one of the many befuddling, ill-conceived notions of this administration, but childhood and its cultivation are not neutral; rather they are deeply politicized. At that moment, Sanders acted maternally. (What a surprise it was that Pickle or children like him did not make an appearance when the administration announced its policy to separate families at the border.)

Sanders's maternal image was once again on display just a few months later, when she appeared on The View with her father, former Arkansas governor Mike Huckabee. During a tense 20 minutes, she addressed questions about Trump's lies, his attacks on the media, and whether or not Joe Arpaio, a convicted felon and former long-running sheriff of Maricopa County, is a racist. During the conversation, an offhand remark by Sanders clarified the true purpose of her role. When discussing how she handles the president's Twitter habit, she told Whoopi Goldberg that being a parent of three children has prepared her for her current position more than anything else in her career.

"As a parent, you're up, you know, 24/7 a day, so it's an easy transition," she said, comparing the president's propensity for tweeting to the behavior of a child for whom she was suddenly responsible. The White House press corps, asking her questions that she might not want to answer at all, are also children, and she knows exactly what to do with them when they act up. "I get to answer the same question all day long," she said, "and I've gotten pretty good at saying 'no.' So I think my kids have been the perfect foundation."

This became a recurring theme, but it was after the White House Correspondent's Dinner that Sanders deployed the motherhood defense most successfully. In her monologue, comedian Michelle Wolf roasted Sanders by comparing her to Aunt Lydia from The Handmaid's Tale, said that she "burned the truth" and used the ashes to make the perfect smoky eye. Wolf was dragged across the coals almost universally by critics, many access-dependent journalists included, who rose to Sanders's defense in a mealy-mouthed chorus. Morning Joe's Mika Brzezinski took the bait, trotting out the "wife and a mother" rhetoric, tweeting: "Watching a wife and a mother be humiliated on national television for her looks is deplorable. I have experienced insults about my appearance from the president. All women have a duty to unite when these attacks happen and the WHCA owes Sarah an apology."
New York Times reporter Maggie Haberman also denounced Wolf for attacking Sanders for her looks, calling her decision to remain at the dinner "impressive." (Haberman was comparing Sanders's decision to Matt and Mercedes Schlapp, conservative lobbyists who left the dinner. Matt Schlapp runs the American Conservative Union whose annual conference, CPAC, invited a white nationalist to speak earlier this year.) Limp defenses from across the aisle only reinforced the value placed by the administration on Sanders, strengthening the case that because a white woman is married or has a child, she is exalted and exempt from excoriation. Shortly after the incident, Sanders was driven from a restaurant by angry protesters, inciting a nationwide debate about civility, the underlying message of which seemed to be that it is cruel to be mean to a mom. Sanders's calculated performative motherhood—her no-nonsense presence and her thousand-yard stare—functioned as the shield it was always intended to be. All of it, a strategic inoculation against any criticism.
---
Since Trump has virtually no claim to the folksy family man persona, he surrounds himself with women who present the kind of family values in which he claims to believe; the kind that, according to him, make America great again. Kellyanne Conway defended the policy of family separation through the lens of motherhood, drawing on it as a source of empathy contrasted to the rational demands of policy.  United States Secretary of Homeland Security Kristjen Nielson, the face of the family separation crisis has, like Sanders, been driven out of a restaurant where she was enjoying a meal by an angry public, who turned the defense mechanism of motherhood against its representative. "Aren't you a mother, too?" they asked her. "How do you sleep at night?"
Meanwhile, Ivanka Trump is white motherhood made glamorous. A polished professional, her motherhood utilizes her small children in matters of diplomacy and leans heavily on the lingo of empowerment feminism as a means of obscuring her dead-eyed morals. She posted pictures of her children on Instagram and Twitter, in a move that was widely greeted as tone deaf and in direct contrast to Ivanka's role in the White House, which is to supposedly strengthen policies around parental leave and rights for women. While she has been given unprecedented power in the White House, she is not the literal mouthpiece of the administration and she has, increasingly and unsuccessfully, attempted to draw narrative distance from her father.

That honor is reserved for Sanders, who wields that narrative with greater precision. All of the Trump women utilize white motherhood to their advantage, but Sanders is its purest manifestation. She mothers the president, she mothers the media—scolding and yielding, at turns—and to stretch the analogy, she mothers the nation.

This is by design; motherhood, and by extension, childhood is at the horizon of nearly all politics. Sanders literalizes the administration's broader appeal to the country about whiteness and motherhood. The only acceptable motherhood is the version perpetuated by the women of the administration—a fact that was made indisputably clear when, in May of this year, White House policy sanctioned the separation of families at the border—an inhumane practice condoned by Attorney General Jeff Sessions as "absolutely necessary."

As more than 2,000 children were being forcibly separated from their parents at the Mexican border, Sanders leaned heavily on the role of mother as an enforcer of rules as an act of love. "It is very biblical to enforce the law," Sanders said in June, echoing Attorney General Jeff Sessions. When a reporter asked that if she had "any empathy" as a parent watching other parents losing their children, Sanders scolded: "Settled down. I'm not going to have you yell out of turn."
Sanders is a maternal stand-in of sorts, making literal an (often unsubtle) message that otherwise lingers solely in the visual realm. It's a persistent reminder that, for the Trump administration, the only family that matters—the American family—is white.

---
Family values are historically the building blocks of white supremacy; in the eyes of the current administration, women are the sole guardians of racial purity. This is the burden of white supremacy on women—to raise the children and serve as master of hearth and home. Lineage, purity, and fidelity are mandatory concerns. In Mothers of Massive Resistance, Elizabeth Gillespie Rae elucidates how white women shaped the Jim Crow era by mobilizing their communities in church and in PTA meetings across the South. Framing integration and racial equity as a looming, ever-present danger to their children, white mothers activated their cohort with the threat of diversity and the damage it would wreak upon their innocent children. They were a grassroots movement in support of institutionalized, systemic racism that came from government policy; they were its boots on the ground. 
This serves as a potent historical analogy for Sanders and the women who surround Trump. As the effects of the administration's family separation policy linger, these women point to natural families; families that deserve to be together; families that are white.

This, however, is not unique to the United States. Claudia Koonz's Mothers in the Fatherland is a landmark study of how the Nazis weaponized motherhood and used the women of the Third Reich to advocate for Hiter's policies, empowering women to be shepherds of white supremacy. Koonz interviewed Gertrud Scholz Klink, the highest ranking Nazi woman, who explained her role by saying that "our job (and we did it well) was to infuse the daily life of all German women—even in the tiniest villages—with Nazi ideals. We wanted to incorporate all women into the national community."

Like the women of the Jim Crow South after them, Nazi housewives and mothers utilized their communities to spread their message: whisper networks and small community actions that functioned then as private Facebook groups celebrating TradLife do now. In the past just as in the present, racial purity was an urgent concern. Motherhood both was and is its means of preservation. In Sarah Huckabee Sanders, that whisper network has the Seal of the President of the United States. You can livestream it, most days, at 2 p.m.
Update: A sentence has been added to this piece to provide more clarity and context to Maggie Haberman's tweet.